Snapchat Streak has become for many young especially teenagers a daily habit aimed to get the longest and highest Snapchat Streak to achieve the highest score.
As one of the major Facebook competitors, Snapchat for teens is a popular game that drives them to get the highest social ladder. This popularity is measured by points that appear next to your name on your profile called Snapchat points.
Photos and videos in Snapchat continue until the user clicks on the next image or for 10 seconds and the stories continue for 24 hours before disappearing and therefore Snapchat Streaks is found to make it continuous.
Snapchat is based on the idea of faded images, memories, and videos that do not last forever. They are designed to be temporary, your photos and videos have become instantly sharing. It offers its users a great experience over time and makes them feel cheerful.
These Streaks have turned Snapchat into a popular social game and have also increased interaction with the application and pushed more people to use the app.
If you're new to the app, the Streaks may look strange to you and you may not know the meaning of the number next to your friends' names.
The Streaks reflect the amount of your popularity in the app. When you have more of these Streaks you will be more sociable.
people spend more time on the Snapchat app, it has amazing features like snap streaks and emojis. Snapchat streaks are shown in red or yellow hurt or in sign emojis.
if you try to streak daily and get the snap streak back you will get 1000 days Snapchat score easily.
READ ALSO: download Snapchat phantom
what does Snapchat streak mean?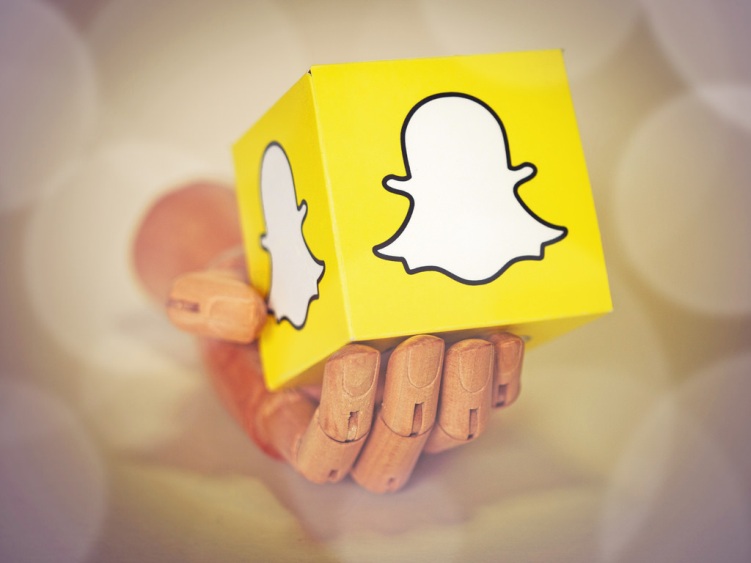 Snapchat streak is the snap produced when you and one of your friends reinforce each other once a day within 24 hours. After about three days you will get a burning icon next to it a new number, that is your Snapchat streak.
Some Snapchat users think Snapchat is a nice app but they do not care about the snaps that are produced every day, and other users like what Snapstreak produces from snaps and they keep doing it every day, Getting higher snap scores has become something important for them.
What does Snapchat emojis mean?
Snapstreak appears as one of the emojis next to the friend's name, and there are several forms of emojis such as fire snapstreak that appear when you snap back more than one day, yellow heart snapstreak appear when you snap a friend and get the streak back and red heart snapstreak appear when you snap back for more than a week which is one of the most important emojis.
The score of the highest streaks.
to get the highest score of streaks, just get some snapping, send them out, try to be active on the application. If you want to increase your score in the application you must first add some celebrities to your account. You can also use them to raise the Snapchat score as well as they have entertaining stories.
These celebrities may not respond to any of your videos, they may never open them, But in the end, you will find that they are giving a real benefit in raising your score.
Snapchat streaks make the app very important especially for teenagers as they now every morning have to check out their new streaks and scores, they really feel fun when they watch their friends make new scores every day.
How do I keep a snap streak going?
Snap streak starts when you and your friends send photos and videos between each other, it's the easy part, but the hard part is how to increase the snaps and make it go. when you forget to send a photo or video back to your friend, it's time to slip.
if you want to increase your snap streak and keep it going you have to follow the below instructions:
1. send snaps every day between you and your friends.
One of the best ways to maintain your score in Snapchat is to send each day videos and photos between you and your friends and try as much as you can to make this from your daily habit.
Keeping a SnapStreaks up not only depends on you but also on your friends. It is not enough to send the snaps to your friends every day, but they have to snap back to you within 24 hours or you will lose your snap.
if you see an hourglass emoji appear next to your contact's name then you just have four hours left before the streak end, you have to send or receive a snap between each other before the time expires.
2. send at least two snaps per day to avoid cleaning.
Snapchat has its own rules that must be adhered to make your Snapchat Streak continuous, you have to send at least two snaps a day so you avoid cleaning Snapchat.
3. Send a reminder message to your friends if they are late for replay.
you need to send something to your friends every morning like any photo or video Or you can send a greeting message to them, Remember it is not important what quality you send but it is important to send them every day and do not forget it, so it can be done simply by using your mobile phone and putting an alert message every morning reminding you of the sending streaks.
4. add value before your friend's name to move their snap streaks to the top.
if you have more ongoing streaks with your friends then you need to see your friends you snap with on the top of the contact list. to do that you have to add value to your friend's names, you can add "aa" at the beginning of their names.
now the contacts list will sort by the first letter of your friend's name and you will see the edited contacts on the top of the contact list, and you will never forget to snap with your friends again.
5. sending photos or videos to your friends is better than the text messages.
you and your friends have to exchange the snaps every day but sending a photo or video message is better than sending a text message so if you sent a text message it's better to include a video or photo like a photo of your face or your dog.
How to Get a Lost Snapchat Streak Back?
if one of your snap streaks has disappeared don't worry it's a common problem then you have to contact Snapchat support. to do that follow the steps below: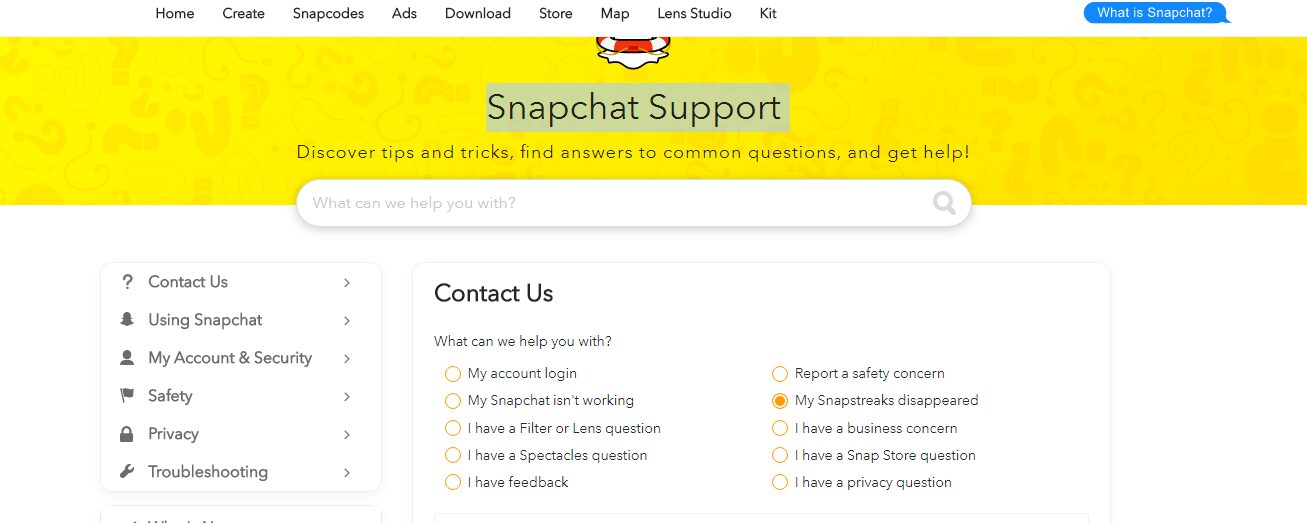 Choose "my snapstreaks disappeared"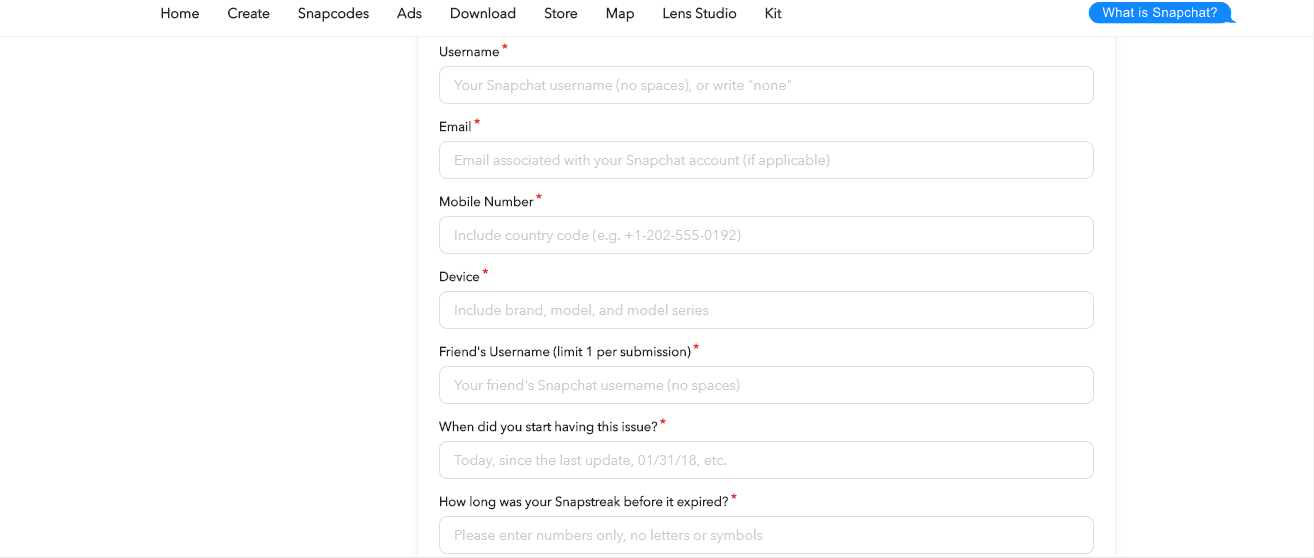 Scroll down, fill in the contact form, and then press "send" button.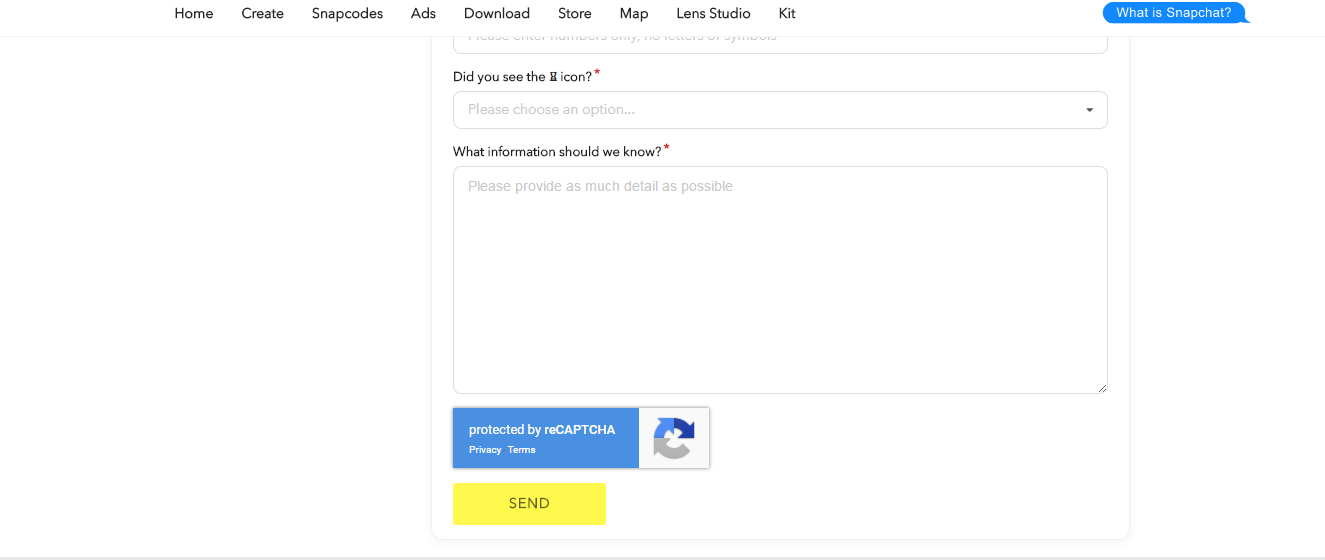 After accepting Snapchat support your problem there is a great chance to restore your snapstreaks back, You will receive a response message from snapchat support within 24 hours.
The longest and highest Snapchat streaks in 2019/2020:
Alex & Yvonne (Score:

1719

, Date: 26/06/2020)
Makenzie & Courtney (Score:

1712

, Date: 7/06/2020)
McKayla & Samantha (Score:

1476

, Date: 29/05/2020).
Alex Orozco & Shatye Hughes (Score:

1256

, Date: 11/10/2019).
Jake (Score:

1365

, Date: 26/04/2019).
Fie Céline (Score:

1367

, Date: 17/02/2019).
Adriana (Score:

1395

, Date: 15/05/2019).
Alex (Score:

1398

, Date: 07/04/2019).
Kayla (Score:

1422

, Date: 21/07/2019).
Kristin (Score:

1437

, Date: 30/04/2019).
Isabelle (Score:

1440

, Date: 11/05/2019).
Erlend (Score:

1500

, Date: 12/06/2019).
Nora (Score:

1272

, Date: 06/10/2018).
Robin (Score:

1128

, Date: 06/08/2018).
Daniel (Score:

1128

, Date: 06/08/2018).
Sarah (Score:

1122

, Date: 06/05/2018).
Miska (Score:

1121

, Date: 05/16/2018).
Finn (Score:

1110

, Date: 05/21/2018).
Amarisa (Score:

1096

, Date: 04/11/2018).
Cody (Score:

1086

, Date: 05/26/2018).
Lane (Score:

1077

, Date: 04/19/2018).
Livia (Score:

1075

, Date: 04/16/2018).
Akayla (Score:

1070

, Date: 06/11/2018).
Samantha (Score:

1069

, Date: 05/29/2018).
Gabrielle (Score:

1057

, Date: 03/13/2018).
Mackenzie (Score:

1055

, Date: 03/09/2018).
Olivia (Score:

1049

, Date: 03/14/2018).
Brandon (Score:

1049

, Date: 03/18/2018).
Ambyr (Score:

1049

, Date: 03/18/2018).
Simon (Score:

1048

, Date: 03/07/2018).
sydney (Score:

1043

, Date: 03/06/2018).
Jordan (Score:

1043

, Date: 03/08/2018).
Kara (Score:

1037

, Date: 03/12/2018).
Katie (Score:

1032

, Date: 03/17/2018).
Meig (Score:

1030

, Date: 03/09/2018).