Can I Easily Perform Egnyte and OneDrive Sync Now?
"I have two cloud storage accounts, one is Egnyte and the other is OneDrive. Now, I want to synchronize the data in these two accounts. What tools do you recommend?"
Egnyte is a trusted platform to protect and manage all your company's files no matter where you work. With its flexible administrator tools, Egnyte is one of the best cloud storage services for enterprises, mainly providing file sharing and collaboration, content lifecycle management, access governance, data privacy and compliance, data control and threat management and other services. Whereas Microsoft OneDrive is a file-hosting service operated by Microsoft. Users can share and sync their files using OneDrive.
But when using both services, Egnyte and OneDrive, users may want to sync Egnyte to OneDrive for the following reasons.
Back up your data: Storing your data with Egnyte is safe, but it never hurts to have an extra layer of protection. It is safer to create backups and sync files from one cloud to another.
Business needs: Since one account is used to store data related to service items, and the other account is used to store other files and media files required by customers, at this time, the enterprises need to synchronize data from multiple cloud storage services.
Integrate all data: Nowadays, more and more users have multiple cloud accounts, so more and more people need to integrate data from multiple cloud accounts. It might be more convenient if you sync all your data into one account and manage it all.
Best Tool for Egnyte and OneDrive Sync
MultCloud is a system that allows cloud-to-cloud migration, sync and backup. We all know that cloud storage services provide businesses with valuable cloud storage solutions. With cloud storage services rapidly multiplying, a new and much-needed cloud sync service has emerged. MultCloud allows easy real-time sync between more than 30 different cloud service providers, such as sync Dropbox to OneDrive.
Simple cloud file sync: No downloads to your local drive with MultCloud. You can sync files directly between cloud services in just a few steps.
Sync files between 30+ clouds: You can sync from one cloud to another among 30+ cloud services. MultCloud supports all popular services such as Google Drive, Box, OneDrive Personal, OneDrive for Business, Dropbox, Amazon S3, Egnyte, FTP, Wasabi, SharePoint Online, MEGA, Flickr, and many more.
Sync large files across clouds: With MultCloud, you can quickly sync files between cloud services, even if they are large. No need to worry about attachment throttling or bandwidth throttling.
Multiple cloud sync modes: MultCloud provides users with 10 synchronization modes, and users can choose the corresponding mode according to their needs.
Industry-leading migration engine: MultCloud is an industry-recognized cloud file migrator. It is the leading cloud file transfer migration engine built on a powerful cloud platform. With MultCloud, cloud-based file transfers are as easy as dragging files from the source cloud to the target cloud.
Detailed tracking and notifications: MultCloud securely tracks file and folder migrations for each cloud, and you can see the details of each task in the task management interface. When email notifications are enabled, you will be notified when the cloud-to-cloud file transfer is complete.
How to Sync Egnyte and OneDrive
Syncing data between Egnyte and OneDrive using MultCloud only requires the following 3 steps.
Step 1. Create a free MultCloud account and log in. You can also use your Google account to authorize a login.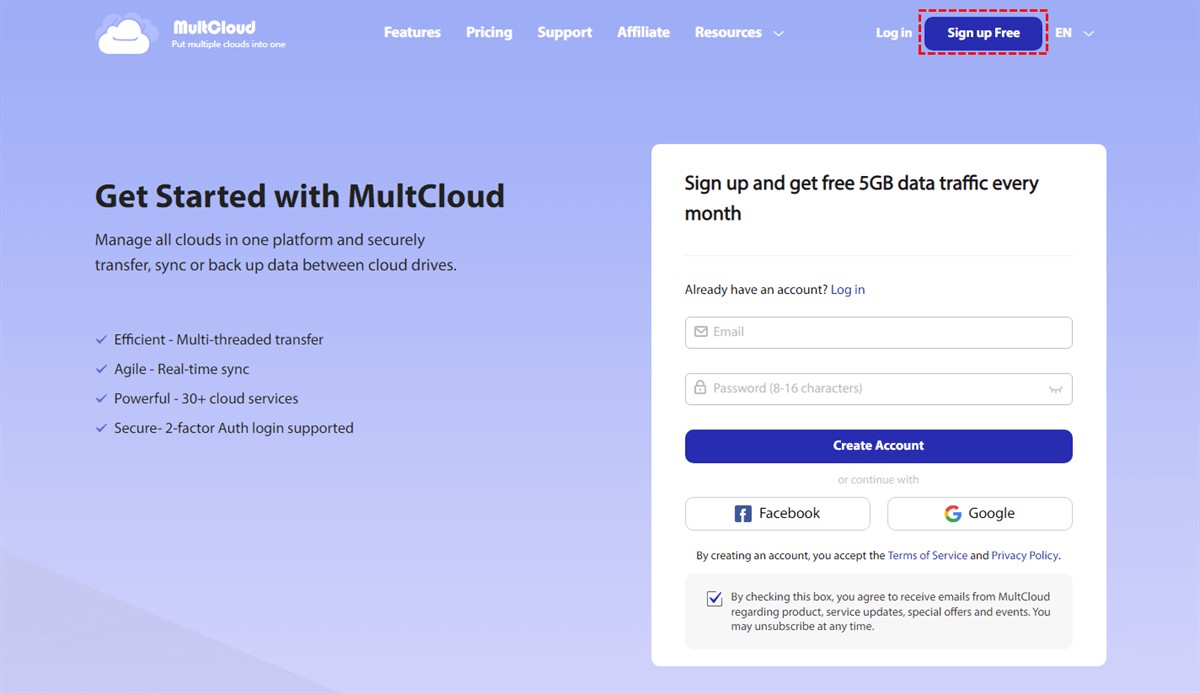 Step 2. Select Egnyte on the cloud drive list interface of MultCloud and follow the prompts in the pop-up window to add an account. Then, add your OneDrive account in the same way.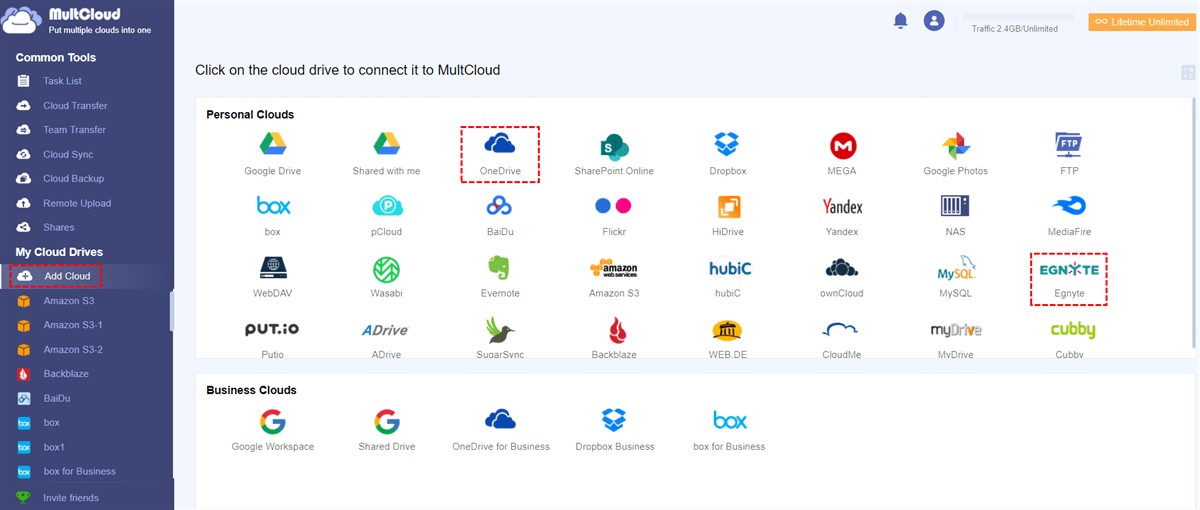 Step 3. Sync Egnyte to OneDrive with Cloud Sync. Click "Cloud Sync" to enter the following window. Click the "FROM" screen to add Egnyte or a folder within it as a source, then click the "TO" screen to add OneDrive or a folder within it as a target. Then, click "Sync Now" to submit the sync task.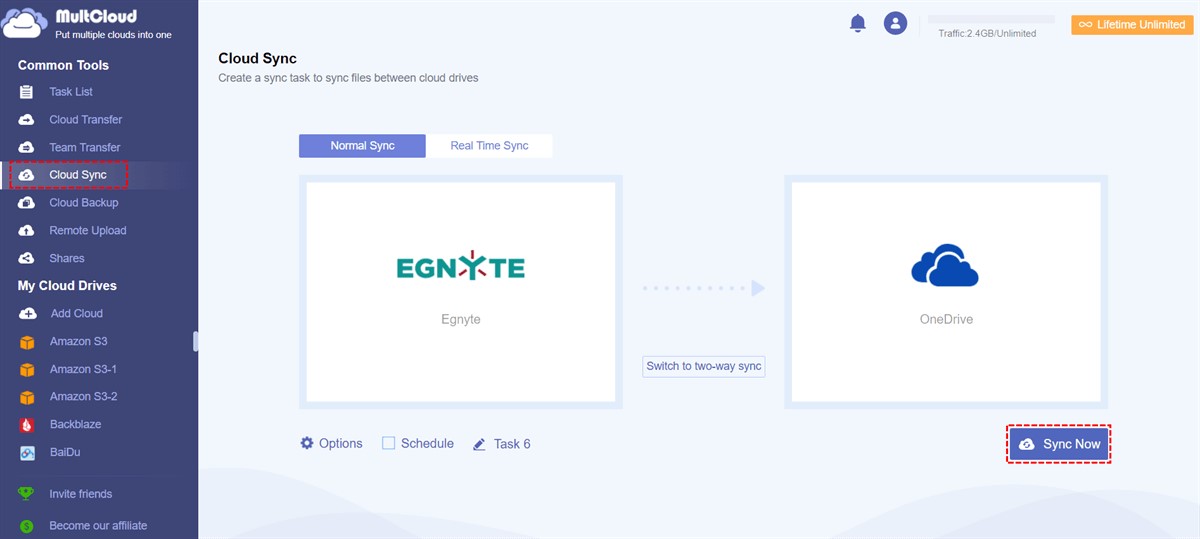 Tips:
• In the "Options" tab, you can choose your favorite sync mode, such as "Real Time Sync", "One-way Sync", "Two-way Sync", "Simple Sync", "Mirror Sync", "Move Sync", "Cumulative Sync", "Update Sync", "Incremental Sync", "Full Backup Sync".
• You can enable the "Filter" option to specify that MultCloud excludes or include files with specific extensions.
• Under the "Email" tab, you can enable email notifications to notify you by email when tasks are completed.
• After the sync process is complete, you can click on "Task List" to manage your sync tasks.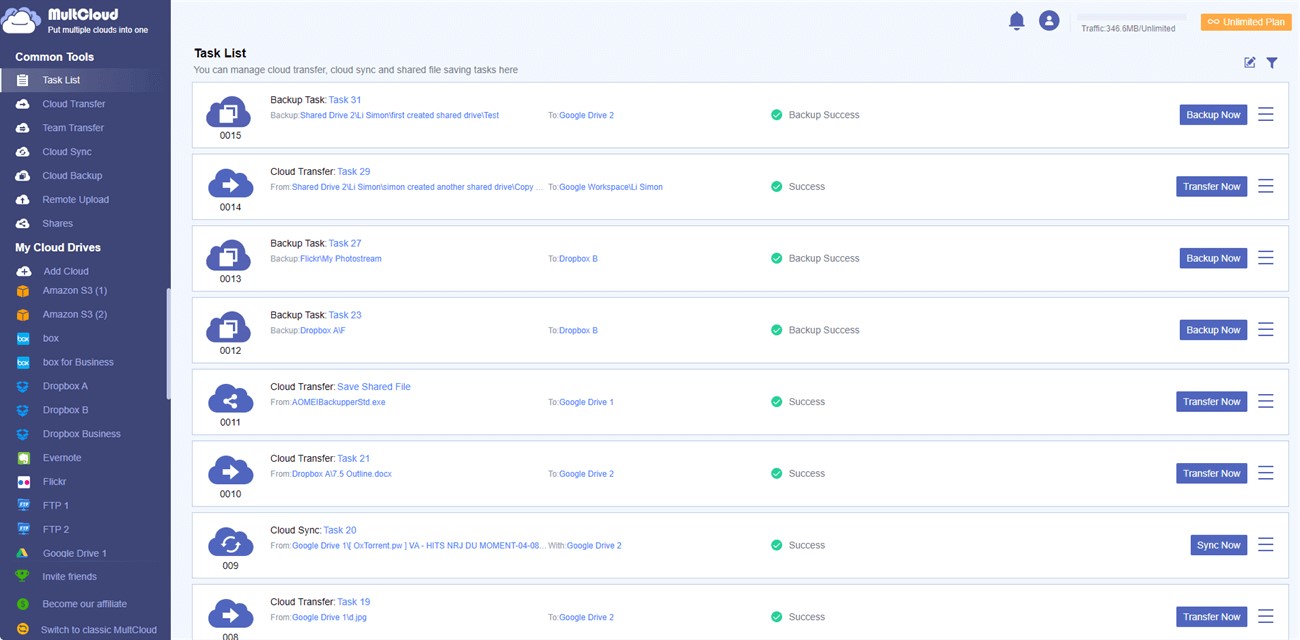 More Than Cloud Sync
With the cloud sync feature provided by MultCloud, you can easily sync Egnyte and OneDrive. In addition to the synchronization function, MultCloud also has functions such as Cloud Transfer, Team Transfer, Cloud Backup, and Remote Upload. Using these features, you can easily back up or move files between cloud services. Alternatively, you can easily manage multiple cloud storage accounts and the data within them from the same device using basic features like share, download, preview, copy or copy to.