Are you a Mac user and feel ready to collaborate online? You still need a webcam. Why do you need a webcam?
As a Mac user, you definitely know that your device has a built-in webcam. Unfortunately, the webcam is on the laptop screen and when you are using a desktop monitor during online meetings, relying entirely on the built-in webcam is irrelevant. For this reason, you are advised to use "a third-party webcam", which in the following paragraphs we will tell you how.
CZUR Fancy S Pro Webcam
We have gone through most of the webcams and come to the conclusion that only a few of them are worth relying on. One of them is the CZUR Fancy S Pro. It is a high-resolution 4K webcam that is suitable for everything related to lectures, meetings, and webinars. Apart from functioning as a webcam, the CZUR Fancy S Pro is also a high-tech document camera with a ton of features that make content transfer easier than ever. Compatible with macOS, this webcam device is your Mac's best friend. For your information, CZUR best Black Friday deals give you the opportunity to own this webcam at a more affordable price.
Understanding the CZUR Fancy S Pro Webcam
To understand the capacity of the 4K webcam, we need to know its main features:
12MP camera equipped with LED light to ensure high-quality shooting and recording. The CZUR Fancy S Pro camera can take documents up to A3 size.
CZUR Fancy S Pro Webcam is compatible with two of the world's most popular operating systems; Windows and macOS. In other words, it is almost certain that your computer will be able to connect to this great webcam.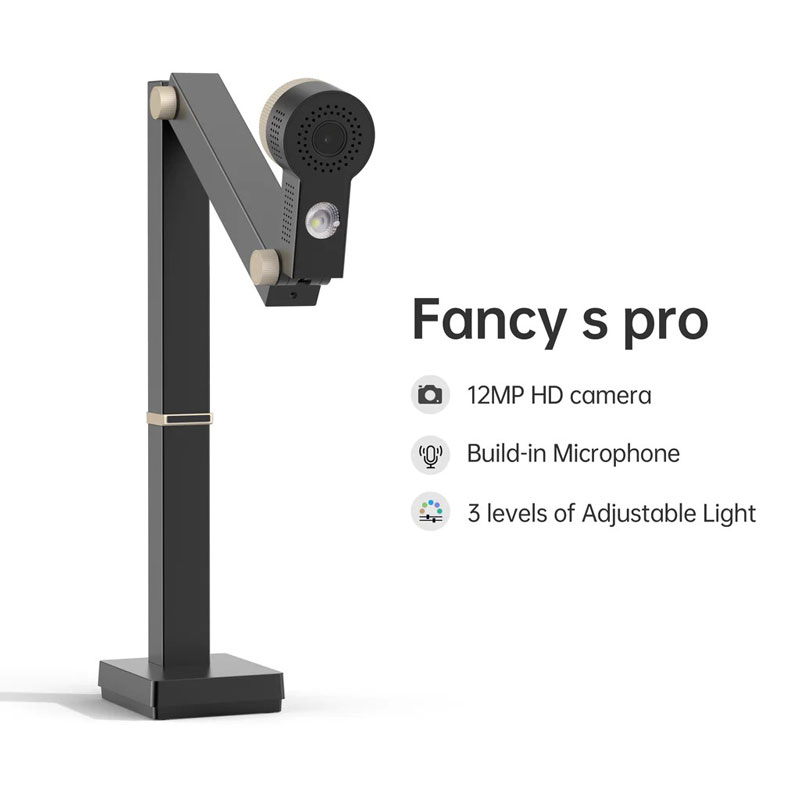 Compatibility with various software for online remote teaching such as Skype, Zoom, and Microsoft Teams.
Three-level lighting can minimize shadows and glare that interfere with taking pictures and recording. One of the classic problems in photographing and recording is shadow interference. Limited lighting always leaves traces of shadows and fortunately, the Fancy S Pro's three-level lighting is able to minimize shadows and glare.
CZUR Fancy S Pro Webcam is supported by software made by CZUR, not software made by third parties. Thus, the document management system is specifically designed for the hardware. As a result, users can maximize the full potential of the tool.
Compact design with light weight. You can move the webcam device without difficulty.
The built-in microphone provides clear communication. Users can communicate clearly as if they were in the same room.
Seamless integration thanks to the 'Plug and Play' concept. This tool is designed in such a way that it can be connected to desktop computers and laptops of various sizes and specifications. In other words, connecting this webcam with these devices is as easy as connecting them via a USB cable. No problem!
Auto Focus. This feature helps direct focus to "important objects" during online lecture sessions automatically. No need to waste time pointing at the camera repeatedly because this webcam is a smart webcam that is able to recognize objects that should be highlighted more.
Use CZUR Fancy S Pro Webcam on Mac
First, make sure your macOS version is 10.13 or above. Then visit www.czur.com and go to "Download Software." Select your device type, in this case, the CZUR Fancy S Pro, to find the appropriate software. Download it, install and run it. To connect your webcam and your computer, use the USB cable provided. Once both are connected, you can access the software and it will detect your webcam. You can now get straight to work. As simple as that!
Here are the next steps to use that great webcam on your Mac:
Go to your Mac's internal settings. Adjust what needs to be adjusted, for example, resolution, video quality, and frame rate.
Then configure audio settings.
As a final step, set CZUR Fancy S Pro Webcam as your default webcam.
Using the CZUR Fancy S Pro for Video Conferencing
Open popular video conferencing applications such as Zoom or Microsoft Teams. All aspects of the software are specifically designed to support its performance as a webcam device. In connection with the sophistication of the software that CZUR Fancy S Pro has, during online meetings, you can take photos of documents to help with visual presentation. Thus, CZUR Fancy S Pro is the right tool for online presentations because apart from being able to display the faces and situations around the speaker, as well as the audience, this device is also able to display documents so that they can be seen by all participants in the online presentation.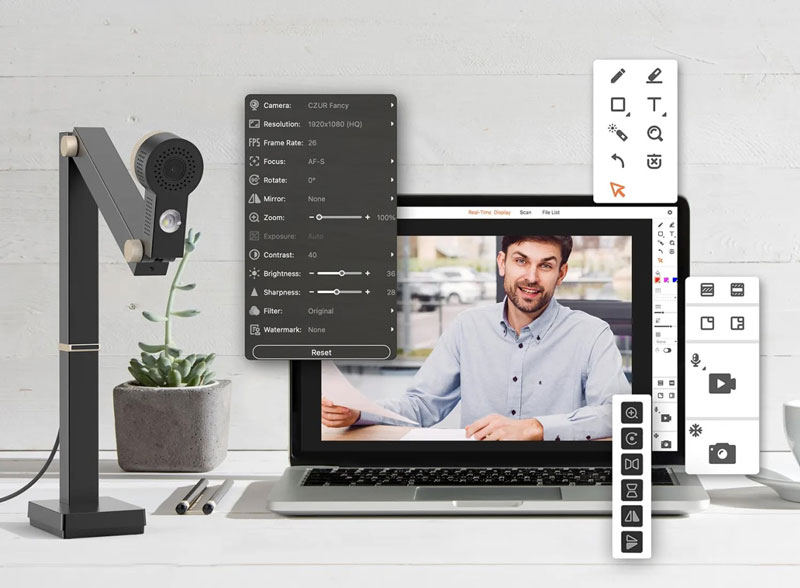 Conclusion
A webcam is important to support any online meeting and the CZUR Fancy S Pro webcam offers more than just a webcam. It provides all the features that help every meeting participant to discuss something, in this case, materials or physical documents thanks to its digitization feature. Interested? The CZUR Fancy S Pro retails for $119 and the Fancy Pro for $99. The price is very cheap if you look at its features. And it can still be even cheaper if you can take advantage of the CZUR best Black Friday deals which provide discounts of up to 50%!