"My grandfather had Alzheimer's disease and set a password on his iPhone. I tried to remove this password, but I have to unlock it first. Please tell me what I need to do?"
Forgetting or losing your iPhone password is a very annoying thing. You can learn from Apple's official website that if you don't have backup data, you can only sacrifice all the data, but at least you can use it again. If you don't want to use the lock screen password anymore, I will show you how to remove passcode on iPhone after successfully accessing it.
Here are four ways to unlock your iPhone and disable your password with or without iTunes. I believe I can help you solve the problem.
Part 1. Use iTunes to Remove Passcode from iPhone
This is a way to not lose data, provided you have an iTunes backup. If you don't have a backup, take a deep breath, be prepared to lose your data, and move on to the bypass iPhone passcode method. Its operation flow is like this:
Connect your iPhone to a previously synced computer, open and update iTunes.
Generally speaking, once iTunes detects your iPhone, it will automatically start syncing data. If not, you can manually sync or back it up.
After completing the second step, click "Restore iPhone".

When the iPhone screen displays "Settings", choose to restore the backup from iTunes.
At this time, a window will pop up in iTunes. Select the backup you just synced and restore it to your iPhone.
In the process, if iTunes asks you for a password, you will need to switch to a synced computer or choose recovery mode to continue unlocking your iPhone. It is recommended that you keep using iTunes regularly for data backup during subsequent use to avoid losing data. One of the benefits of using iTunes Backup is that the size of its storage is determined by your computer's storage space, while iCloud has a clear cloud service storage limit.
Part 2. Restore iPhone with Recovery Mode
As mentioned before, recovery mode is a method that you can use without a backup. Of course, you can also use this method when iTunes asks you for your password. When you delete your password, it will delete all your personal information, photos, videos, etc. Take a deep breath and start losing data:
You need to charge your iPhone. Yes, you must ensure that its power is 20% or more.
Close iTunes that is already open on your computer and open it again. Connect your phone to it.
Let your iPhone enter recovery mode:
For iPhone XR/X/8, press the Volume Up and Volume Down buttons respectively, then press and hold the power button until the screen displays Connect to iTunes.
For iPhone 7/7 Plus, press and hold the volume down and power button until the screen displays to connect to iTunes.
For iPhone 6 or iPad, iPod, press and hold the Home and Power buttons simultaneously, until the screen displays to connect to iTunes.
At this time, iTunes will ask if you want to restore or update the iPhone, choose to restore.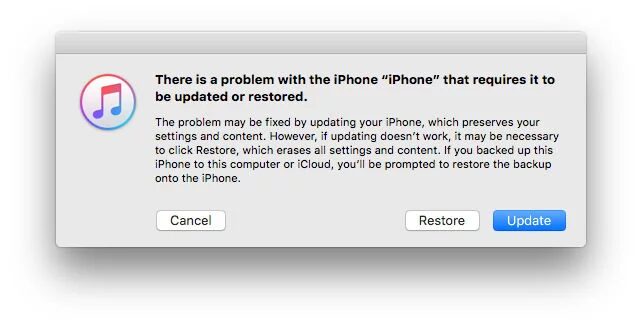 After a while, you will get a blank iPhone.
Recovery mode is a common way to solve many iOS problems. When your iPhone has other issues that you don't know, try using recovery mode to solve the problem. You know that this method will delete all data, so my suggestion is that you'd better back up your data to iTunes or iCloud regularly.
Part 3. iPhone Remove Passcode with iCloud
If you can't connect to iTunes for a variety of reasons or if you don't have a computer right now, and you've enabled the "Find My iPhone" feature in iCloud, you can unlock your iPhone with any smart device. Similarly, if you don't have an iCloud backup, take a deep breath. If you have it, it is perfect.
Browse with any device that can access the Internet: icloud.com/#find.
Enter your Apple ID.
Find all device options at the top of the page and click on it.
Find the iPhone you want to unlock in the drop-down list and select it.
Select "Erase iPhone (iPad or iPod touch)" so you can remotely wipe the iPhone and its password. In the process, please keep the iPhone connected to the network.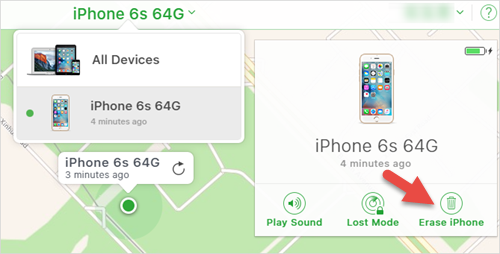 If you have iCloud backup, please restore. iCloud was originally a feature for deleting data when iDevice was stolen. Thanks to its ability to delete the lock screen password when deleting data, it became one of the ways to unlock the iPhone.
Part 4. Disable Password After Unlocking
When you no longer want to use your iPhone password, you can learn how to turn off lock on iPhone. This is easy to do, just follow these steps:
Open "Settings" on your phone and find the "Password" function.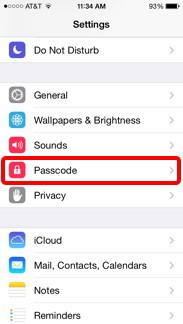 Now you need to enter the currently set password.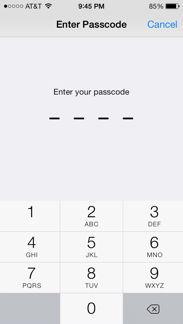 After the page will display the following functions, select the Turn Passcode Off option.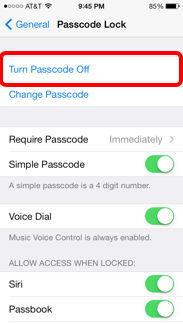 You will need to enter the password again and it will tell you that the password lock feature is disabled. At this time, you will see the screen showing the Turn Passcode On option.
Congratulations, you now know how to take passcode off iPhone. The next time you wake up your device, it won't ask you for a password.
Make a Conclusion
In this article, I introduced three ways to remove passcode from your iPhone, two of which require iTunes and the other to use iCloud instead of iTunes. As a supplement, I also wrote how to turn off password on iPhone. I really want to help people who are locked out of the iPhone screen to solve the problem.
If you have any other better methods or if you have any questions about the above methods, please feel free to leave a comment in the comments section.