Money-making apps provide an excellent way to increase your income and financial stability in the gig economy. They offer mutually beneficial cooperation, allowing users to receive rewards for some actions. At the same time, the owners of such projects also benefit, although they share part of the profits. In other words, ad fees, in-app purchases, and other sources of monetization bring in more than application development costs. This niche is gaining popularity as it allows both parties to benefit financially. The best money-making apps are listed below.
Best Money-Earning Apps
There are many applications for making money on the Internet, but using those that have won the championship in their niches is usually the most profitable. The reason is that such applications offer better conditions and a more excellent choice of paid activities.
Rakuten
Rakuten, formerly known as Ebates, is an app and browser extension that allows users to save money when shopping from a list of participating retailers. Users can search and shop using exclusive coupons for in-store and online purchases and can scan items to compare prices. This type of application allows customers to get money back on eligible purchases from Macy's, Marriott, and Sephora as well as 3,500 other retailers. After signing up for a free account and choosing either the mobile app or browser extension, users will earn a percentage of cash back (rebate) when they make a purchase. The amount varies between 1% to 2%, however, some may be able to earn more than 10% depending on their purchase type. In addition, users may also receive extra cashback if they apply for a Rakuten credit card.
Upwork
Upwork is the perfect platform for skilled professionals who wish to make some money in their free time or pursue a career as a freelancer. With an easy-to-use profile set-up and more than 1,600 skills available, users can attract new clients based on reviews, total earnings, and client scores. One can apply for projects directly or receive an invitation to take part in ongoing or one-off projects. Plus, the payment protection guarantee ensures that successful work is duly paid. However, a service fee between 5%–20% depending on the client's total earnings applies while payment may take up to 10 days after the billing period ends. Clients also have the liberty to shop around and select lower rates. With its simplicity and comprehensive communication framework tailored toward freelancers, Upwork offers great potential for individuals everywhere to make money in extraordinary ways.
Survey Junkie
Survey Junkie allows users to make money quickly by completing surveys that can take as little as 30 minutes to complete. These surveys are based on demographic questions from partnered brands and market research companies. Additionally, Survey Junkie also allows users to earn via sharing browsing data. All data is submitted anonymously for user protection so that respondents maintain their privacy. For those hoping to turn their survey points into cash, users have the option of redeeming PayPal or online gift cards as instant payment. While Survey Junkie has several positives, such as fast sign-up and payment options, there are drawbacks like pre-survey identity confirmation, invitations to expired surveys, repetitive questionnaires, and partially completed surveys that may be terminated due to not meeting criteria.
OfferUp
OfferUp is a great way to sell your used items to people in your local area. Its integration with Letgo in 2020 will allow sellers to reach an even wider audience, as it now allows shipping within the United States excluding Alaska, Arkansas, and Hawaii. Creating an account on OfferUp is simple; all you have to do is take a picture of the item you're selling, add a title, description, and price, and then post your listing. You can then chat directly with any potential buyers through the app in order to arrange a meeting or shipment. It's important to note that when selling locally, OfferUp recommends taking cash from buyers rather than check methods or other apps for payment. But if you decide to offer shipments of your items, you can set up deposits on either your debit card or bank account. Selling unused items has never been easier thanks to OfferUp!
Foap
With Foap, amateur and skilled photographers alike are able to monetize their work with ease. All you need to do is download the app and upload your photos or videos – creating an account is free and only takes a few minutes. You will be compensated whenever one of your pieces is purchased by an agency, brand, or another user on Foap. Revenue generated from each photo will be split 50/50 between you and the app, so if you submit a photo for $10, your share will be $5. Furthermore, you can participate in Missions which increases the level of compensation as well as give you additional exposure as a photographer. We chose Foap because it provides creative individuals with an easy way of making money off their work without feeling too limited by restrictions.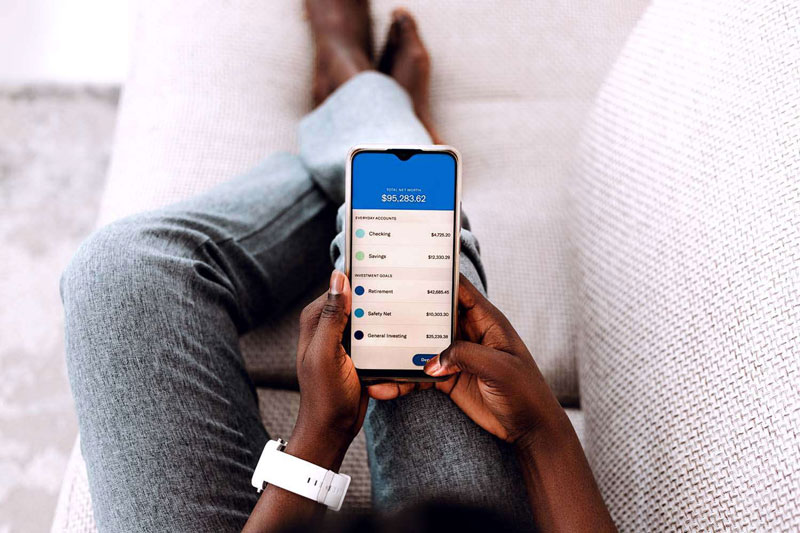 source: thebalancemoney.com
How much does it cost to create a money-making app?
When it comes to the mobile app development cost, the amount to create an app can vary greatly depending on a number of factors. For example, an app designed for Android may require different code than one designed for iOS. The complexity of the mobile application will also have an impact on development costs. Additionally, hiring mobile developers and designers will add an additional expense to mobile app development projects. One option to get an accurate estimate for your project is to contact one of the trusted mobile app development agencies like Jatapp.co. If we talk about average prices, then the cost can range from $25,000 to $40,000 for a simple application and from $100,000 for a complex project. In order not to guess which category your service belongs to, it is better to calculate the cost to create an app using a real example.
Conclusion
The cost to create a money-making mobile app can vary depending on the scale of its development and the specific mobile app development services required. In order to make an informed decision, it is important to do thorough research on mobile app development agencies, their fees, and the services offered. At the end of the day, you want to ensure that you are getting the best mobile app development services for your money-making mobile app. For further information on mobile app development services, be sure to visit Jatapp. With a quality plan and its professional implementation, your project will be doomed to success.