Plantronics, a brand that has been synonymous with audio communication solutions since the 1960s, has a rich history of innovation and expertise in audio technology. The BackBeat GO 810 is a product of years of experience, experimentation, and a passion for creating audio equipment that enhances the user's experience. The company's commitment to audio excellence is embodied in these headphones, providing a seamless blend of sound quality, comfort, and practicality.
The Specifications
The Plantronics BackBeat GO 810 is a wireless, over-ear headphone model that offers a combination of performance and affordability. They come equipped with 40mm drivers that deliver rich, detailed audio. The headphones have a frequency response of 50 Hz to 20 kHz, ensuring you can enjoy a wide range of sound, from deep bass to crystal-clear highs. They also feature active noise cancellation with dual modes, allowing you to adjust the level of noise cancellation according to your environment.
The headphones offer Bluetooth 5.0 connectivity, ensuring a stable connection within a range of up to 50 meters. They support the SBC audio codec, guaranteeing high-quality audio transmission over Bluetooth. In terms of battery life, the BackBeat GO 810 excels with up to 22 hours of listening time with ANC on and up to 28 hours with ANC off.
Unboxing the BackBeat GO 810
When you open the box of the Plantronics BackBeat GO 810, you are greeted with the headphones themselves, a USB-C charging cable, and an AUX cable. You'll also find a quick start guide that will assist you in setting up and getting familiar with your new headphones.
Design and Craftsmanship
The BackBeat GO 810 exudes a sleek, modern aesthetic, underlining Plantronics' attention to detail and design. The headphones are made from high-quality materials, including a combination of soft-touch plastic and faux leather, which not only look good but also feel comfortable. The build quality is solid, and the headphones have a sturdy feel without being too heavy, weighing in at around 189 grams.
Comfort and Usability
Plantronics has designed the BackBeat GO 810 with ergonomics and usability in mind. The headphones feature memory foam earcups that provide a snug yet comfortable fit. They are adjustable and can be folded flat, making them easy to carry around.
The on-ear controls are intuitive and easy to reach, allowing you to control your music, handle calls, and toggle ANC without needing to reach for your device. The headphones also feature a "My Tap" function in the BackBeat app, which lets you customize shortcuts like starting a stopwatch or selecting your favorite playlist.
Connection and Control
Connecting the BackBeat GO 810 to your device is simple and quick, thanks to the reliable Bluetooth 5.0 technology. The headphones also support multipoint pairing, allowing you to connect them to two devices simultaneously.
The BackBeat app provides you with software support, enabling you to tweak settings, customize your sound profile, and update firmware. The app also provides a quick tutorial on the headphones' features, ensuring you get the most out of your BackBeat GO 810.
Sound Quality
The BackBeat GO 810 delivers impressive sound quality, thanks to its large 40mm drivers and wide frequency response. The sound signature is balanced, with deep bass, clear mids, and crisp highs. The headphones also perform well in reproducing detailed sounds, making them ideal for various music genres, podcasts, and even music for yoga.
The active noise cancellation feature works efficiently, reducing ambient
noise and allowing you to immerse yourself in your music. It comes with two modes: high and low, which you can switch between depending on your environment.
Battery Life and Efficiency
The BackBeat GO 810 boasts a robust battery life, offering up to 22 hours of playtime with ANC on, and up to 28 hours with ANC off. Charging the headphones is also efficient, with a full charge taking about two hours. The quick charge feature is a bonus, providing up to three hours of listening time with a 10-minute charge.
Comparison with Similar Headphones
In the same price range, you might also consider the AKG Y500 and the JBL Live 650BTNC. The AKG Y500 offers a more compact on-ear design and features Ambient Aware technology, while the JBL Live 650BTNC provides a similar over-ear design with JBL's signature sound and effective noise cancellation.
User Experience
Users have praised the BackBeat GO 810 for its balanced sound profile, comfortable fit, and efficient noise cancellation. They appreciate the long battery life and the headphones' ability to maintain a strong, stable connection.
On the flip side, some users have noted that the headphones could offer more customization options in the BackBeat app. Others have mentioned that while the noise cancellation is effective, it might not be as powerful as some higher-end models.
The Verdict
In conclusion, the Plantronics BackBeat GO 810 offers a compelling package for those looking for quality wireless headphones at an affordable price. They offer excellent sound quality, active noise cancellation, a comfortable fit, and a long battery life. They stand out as a versatile choice, suitable for various uses, from commuting to enjoying your favorite music playlist, or even immersing in your music for yoga.
Ratings
Sound Quality: 8/10
Comfort: 8/10
Battery Life: 9/10
For Gaming: 7/10
Volume Control: 8/10
Noise Cancellation: 8/10
Overall Rating: 8/10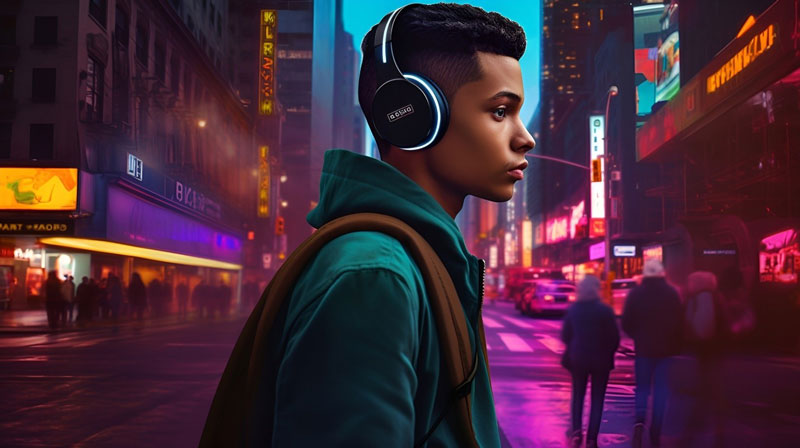 FAQ
Q: Can the BackBeat GO 810 connect to two devices at the same time?
A: Yes, the headphones support multipoint pairing, which allows them to be connected to two devices simultaneously.
Q: Is the noise cancellation adjustable?
A: Yes, the active noise cancellation has two modes: high and low, which you can switch between depending on your environment.
Q: How long does the battery last on a single charge?
A: The headphones offer up to 22 hours of playtime with ANC on, and up to 28 hours with ANC off.
Q: Can the headphones be used for gaming?
A: Yes, they can be used for gaming, but keep in mind that they might not offer the same level of audio detail or spatial awareness as dedicated gaming headphones.
Q: How effective is the noise cancellation?
A: Users have reported that the noise cancellation is effective for reducing ambient noise, but it might not be as powerful as some higher-end models.
Engage with Us
What are your thoughts about the Plantronics BackBeat GO 810? Do you have any personal experiences with these headphones? We'd love to hear your feedback and thoughts in the comments section below. Remember, your insight could be valuable to someone else in our community. So, don't hesitate to share!