When it comes to the logo design, your mind may come up with a lot of difficult programs, or looking for an expensive graphic designer. But DesignEvo – Logo Maker lets you leave all this on the edge.
Let's meet DesignEvo – Logo Maker which enables anyone to design logos like an expert, no advanced graphics skill needs, and best of all, it's free to download!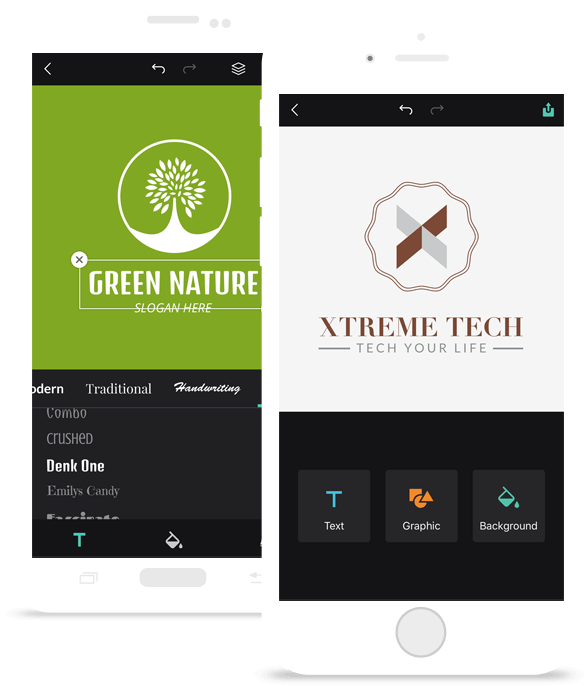 With DesignEvo – Logo Maker, it is a breeze to design the logos you want on-the-go. No matter what kinds of your activity, this app answers all your needs. You can use the logos you design in DesignEvo – Logo Maker either in your company website, social media account, app, business card, letterhead, stationery, or T-shirt printing, etc. Creating a visual identity is extremely flexible!
The best part of the application is the user-oriented design. All features are extremely clear and easy to use. If you do not have an idea of ​​how to start your logo, do not worry. You can start by choosing the pre-made templates in the application. Categories include business, fashion, technology, animal, education, food, sports, and many other options. Select the appropriate category from these options and start browsing templates to find the one you like the best. You can customize any logo to make it your own by making changes to your liking.
The graphics in the application are quite remarkable. You can find symbols, badges, decoration tools, line styles, shapes and more in this application. In terms of font types, it has a wide range. If you want to design a modern logo, you can browse the modern styles. There are also other writing styles in traditional, handwriting or funny.
In practice, there are more adjustments from the color of text you write, to the spacing between words, from curve effects to the opacity. You can also add a distinct atmosphere to your writing by using the background feature. All you need to do is download DesignEvo – Logo Maker application for free.
You can save the logos you design in DesignEvo – Logo Maker in more than one format. With JPG, PNG and even transparent PNG files, you can use your logos anywhere you want. The first thing when it comes to establishing corporate identity is a logo. This is why it is important to design a logo that represents your company perfectly.
Advantages of DesignEvo – Logo Maker
* More than 3000 professionally designed logo templates available
* A wide range of graphics and fonts
* Powerful yet easy-to-use editing tool
* Adjust each element quickly and flexibly with your fingers
* Edit and download logos anywhere, and anytime
* Free to download
The application is compatible with iPhone, iPad, iPod touch, and Android devices. You can also download the app from the APP Store or Google Play. For more information, please check here https://www.designevo.com/for-mobile/