The main advantage of PDF documents is portability between different platforms in an unchanged form. This means that we will be able to read the file on any computer with any operating system. The page format, font or layout will not be changed, we will always print as we see on the screen. Also important is the popularity of this format, which is widely used around the world and anyone can read it with a free, publicly available program.
At the beginning, it should be mentioned that to read a PDF document, it is best to use the free Acrobat Reader program. When thinking of a program with which to create and edit PDF files, certainly the first option that comes to mind is Adobe Acrobat although it is not the only option since there are various alternatives that can be equally important for a large number of users. As such, we will look at one of the best available.
SwifDoo PDF Review
SwifDoo PDF is probably the most popular alternative to Acrobat among the payment options. With this program we can organize, edit and export PDF files. It has an interface similar to that of Adobe Acrobat DC, although it is much lighter, cheaper and simpler. It has key features such as the ability to correct text add notes, encrypt PDF documents, add multimedia files, etc. Moreover, it is able to recognize any paper document through Optical Character Recognition(OCR) to convert the processed image into PDF.
This PDF program would help the project a lot if done the right way.
Installation of the SwifDoo PDF program is trivial, you need to run the downloaded file and go through a simple installation wizard accepting the terms of use.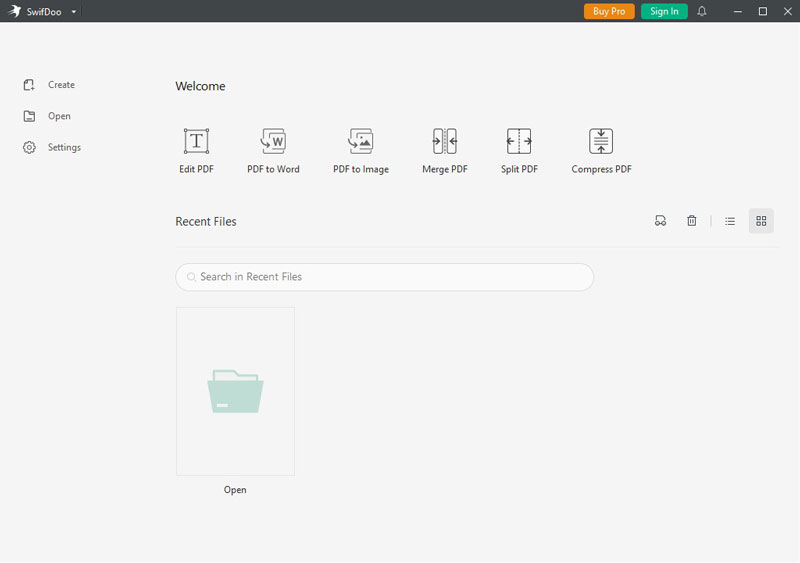 Main Features
SwifDoo PDF comes with a wide range of features that make it stand out from other PDF applications. Some of its main features include:
SwifDoo PDF for Windows is an application for managing and editing PDF files. Pages in PDF documents can be easily combined, split, added, deleted and rearranged. It's a quick and easy way to update existing documents or create new ones.
SwifDoo PDF allows you to annotate PDF files with highlighting, underlining, strikethrough, notes and drawings. It has additional features such as adding comments, stamps and signatures.
SwifDoo PDF is an easy-to-use PDF reader that supports all major file formats. It helps you easily navigate your documents including recent files and text search. You can choose how you want to view your documents, such as one-page or two-page view. Whether you often read a lot of PDF work, SwifDoo PDF makes it easy to read.
SwifDoo PDF can convert PDF files to various formats such as Word, Excel, PowerPoint, PNG, JPG, HTML and XPS. With the program, you can also convert Word, Excel, PPT, Image, EPUB to PDF files. Whether you want to convert files for work or personal use, SwifDoo PDF makes it easy. The developer also provides an online PDF converter tool.
Discounted Offers
SwifDoo PDF offers the same value at a one-time but affordable price. You can learn it and use it without worrying about monthly payments as there are many options available.
You can test SwifDoo PDF Pro for free by downloading a 15-day trial from it. If you want to use it permanently, you must acquire its license, which has a starting price of $16 USD per user of the basic plan.
Take advantage of the promotion for the purchase of the SwifDoo PDF software. You will get up to 20% discount at https://www.swifdoo.com/pricing.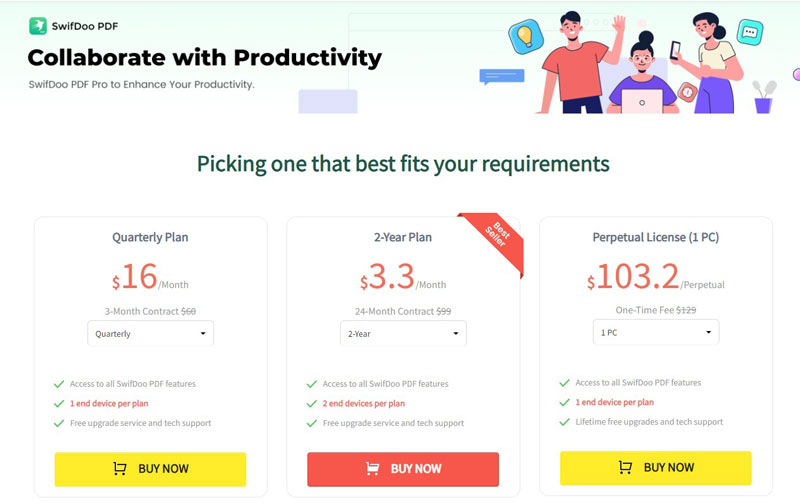 Refer a Friend campaign
Apart from the discounted offers, SwifDoo PDF also provides an interesting refer a friend campaign, a mechanism that will allow the participants to recommend the program to the friends. The mechanism is simple but effective, both to promote the new users as well as the existing user base.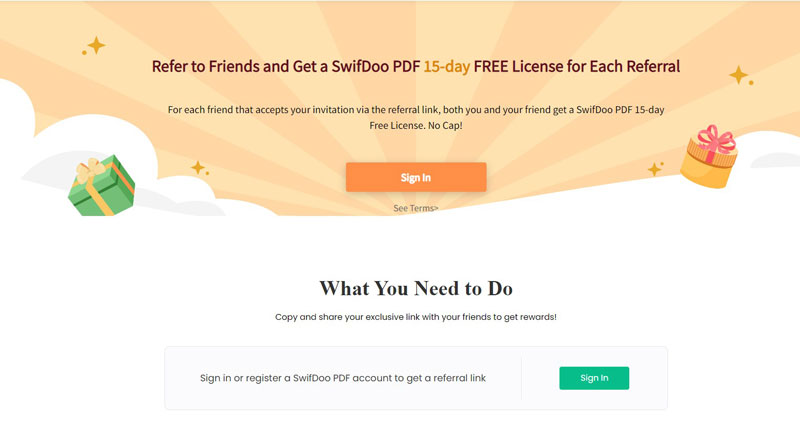 For confirming the success referral to a friend, the user automatically receives a license key entitling him to use the SwifDoo PDF pro version for free for 15 days which is completely free, and there's no invitation limit. More details can be obtained by visiting the campaign page at https://www.swifdoo.com/refer-a-friend-campaign