We all have pictures of people who weren't invited. It's possible that you felt that you'd never be able to take a picture of a beautiful scene without someone walking right in front of the lens. Perhaps it wasn't until you got home that you realized a head was in the image. Or perhaps a person was walking through the frame, and you failed to notice them.
The good news is that you can eliminate unwanted persons in a picture with a simple and free online photo editor. And Object Remover is one of the best choices to solve such problems, making your picture clean, focused, and professional in seconds.
If you have a good shot but with unwelcomed people in it, try to cut out the guy without learning any complicated skills or downloading a big software on your computer. In this article, we will take you to explore how to remove unwanted persons using Object Remover. Follow our guides and take practice whenever you want to clean up your pictures.
Object Remover – Free Tool to Remove People from Image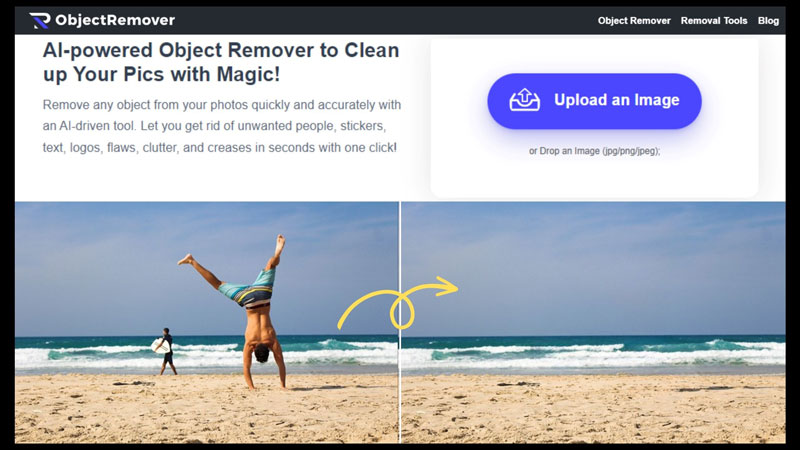 Have you ever taken a stunning picture only to be disappointed at the unwanted people in the frame? Is there a way to capture those perfect moments without any distractions? That's where Object Remover comes in. It is a magical solution that effortlessly removes people from your images and brings your photos to life like never before!
With just a few clicks, Object Remover becomes your artistic ally, erasing any distractions and leaving you with a masterpiece. Whether it's an ex-boyfriend, a random stranger, or even a pesky seagull that decided to photobomb your beach picture, Object Remover will make them vanish, like they were never there at all.
The power of Object Remover lies in its advanced algorithms and cutting-edge technology. It meticulously analyzes the image, identifies the unwanted objects or people, and seamlessly removes them, filling in the gaps with intelligent background reconstruction. The result? A picture-perfect image that tells the story you intended to capture—a moment frozen in time, free from any interference.
Remove People from Image – Step-by-Step Guide
Step 1: Choose the People Remover Tool on Object Remover

Visit the website of Object Remover and choose People Remover from its drop-down menu of Removal Tools. This website offers different tools to remove specific items in a picture, but People Remover is mainly for removing a person from the image.
Step 2: Upload your image for people removal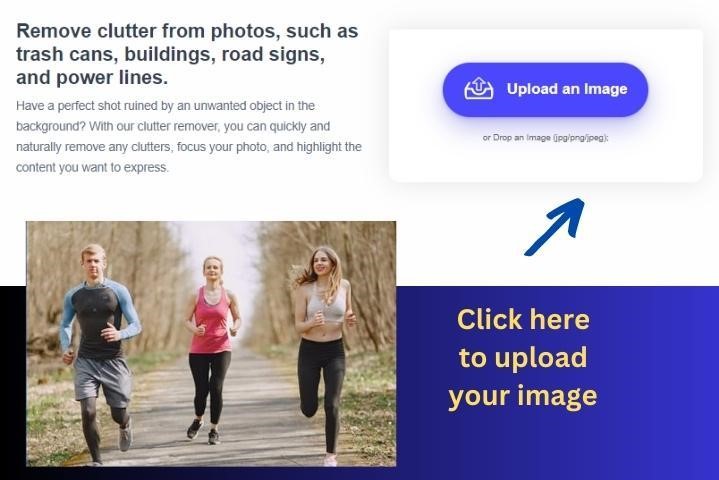 Once you enter the workspace of People Remover, click "Upload an image" to upload the picture to this website. If possible, ensure the image size is less than 300kb to guarantee a fast removal process.
Step 3: Mark the people area using the brush tool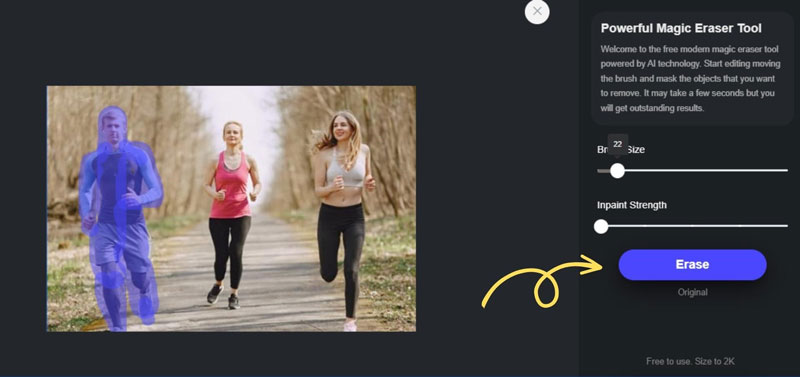 Now you can draw the people area using the built-in brush tool. You can change the brush size flexibly by dragging the brush size sliders. The larger the brush size, the greater the range of people selection.
Step 4: Click "Erase" to Start People Removal
To start the people removal process, click the "Erase" button. The processing time depends on the size of your uploaded image. It takes several seconds to return your results for small or medium-sized images.
Step 5: Enjoy the result of People Removal
When the work is finished, you can preview the effect of the photo in the same window. You will notice that the selected area has been removed from the photo without leaving any trace. Feel free to download the clean picture and enjoy it without unwanted characters.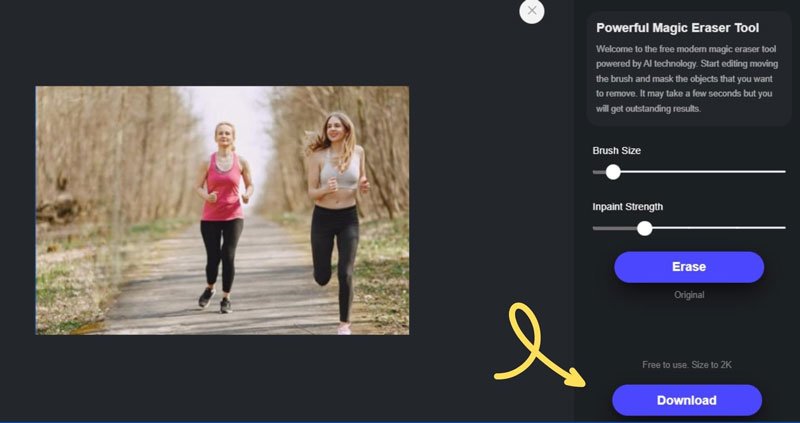 Benefits of Removing People with Object Remover
Automatic Workflow
One disadvantage of using traditional methods to remove people from images is time-consuming. For example, even a photo editing expert may take several minutes to cut out a person using Photoshop. However, with Object Remover, the process becomes much simpler and faster. The AI algorithms behind the tool can automatically detect and remove unwanted people or objects from your photos.
Free AI Object Remover
Object Remover is a free AI Image cleaner that allows you to remove unwanted objects online without payment. Unlike some photo editors with a time-limited free trial, Object Remover is always free for use. In addition to People Remover, the other good features of this tool is also available for free members. Whether you want to remove text or clutter, you can do that for free.
High-quality Result
With Object Remover, you can get rid of people from the image while maintaining the overall quality of the photo. The tool uses artificial intelligence to process your image and export high-quality results. The advanced algorithms and machine learning models used to ensure that the removed objects or people seamlessly blend into the background, leaving no traces of their existence.
User-friendly
Ease of use is crucial in choosing the right object removal tools. And Object Removers excel in this aspect. It features intuitive interfaces with straightforward controls and can be user-friendly even for those with limited technical expertise. You don't need to be a professional photographer or graphic designer to utilize an Object Remover's capabilities effectively.
People Removal FAQs: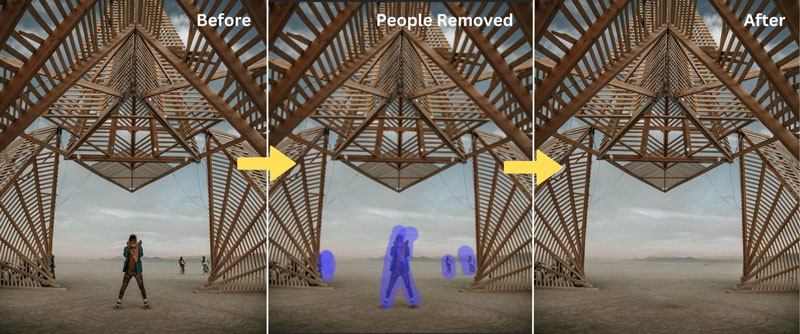 Q1: Can I remove more than one people from a photo at once?
A1: An Object Remover can remove multiple people or objects from a single image. You can select and remove unwanted elements individually or use the tool's intelligent selection capabilities to remove them all at once.
Q2: Does Object Remover work well with complex backgrounds?
A2: Yes, Object Removers are designed to handle complex backgrounds effectively. The advanced algorithms can intelligently analyze the image and separate the foreground from the background, ensuring a clean removal process even in challenging scenarios.
Q3: Can I remove a tourist from a travel photo without losing quality?
A3: You can remove a tourist from a travel photo without losing quality. Object Remover is an advanced AI-powered tool for unwanted object removal. It can analyze the image and intelligently remove selected elements while preserving the overall quality of the photo.
Q4: Is it possible to remove an unwanted person on my iPhone?
A4: Yes, you can do that on your iPhone. Many apps allow you to get rid of unwanted people from pictures, such as Snapseed, TouchRetouch, YouCam, Adobe Photoshop Fix, and VSCO.
Conclusion
Removing people from images can be a challenging task in the past. But now you have a hassle-free solution to this task. Thanks to AI technology, Object Removers have made it more accessible. There are many benefits of using Object Remover to get rid of people from your photos, including automatic workflow, free AI options, high-quality results, and user-friendly interfaces.
Object Remover can be a helpful tool for editing photos, whether you're a professional photographer, a fan of social media, or just someone who wants to improve their pictures. Embrace this technology, and you'll open up a world of ways to make beautiful images without dealing with unwanted people or things.