If you're wondering how to harness the power of technology and open up brilliant opportunities for Instagram marketing, look no further and read this concise guide. In this article, we explore the benefits of automated account management and provide a list of the best bots for Instagram.
What's an Instagram Bot
We assume it's highly unlikely that in 2023 someone who is reading an article on social media marketing doesn't know what Ig bots are. However, if for some reason you missed the advent of these powerful digital marketing tools, let us briefly explain why you should urgently catch up and start using them.
What comes to your mind when you hear the phrase 'Instagram marketing bot'? If it makes you think of buying followers and likes, following fake accounts or performing other mindless actions, your idea of using a bot is obsolete.
The modern concept implies that bots interact with Instagram accounts the way a human would do. It's a non-risky and effective method of automated account management that helps you increase engagement and lets your business grow organically with no need for you to be online 24/7.
It can be compared to an assistant who constantly monitors the account, likes other users' posts and comments, replies to DMs, interacts with content, and follows and unfollows people. The only difference is that a human manager needs to eat, drink, and sleep, while the automated one is tireless.
Top Five Bots for Instagram Marketing
If you have a close look at their website, you'll see that Instagram marketing is their cup of tea. The company has been on the market for quite a while and offers a variety of Insta promotion tools. The bot is just one out of many.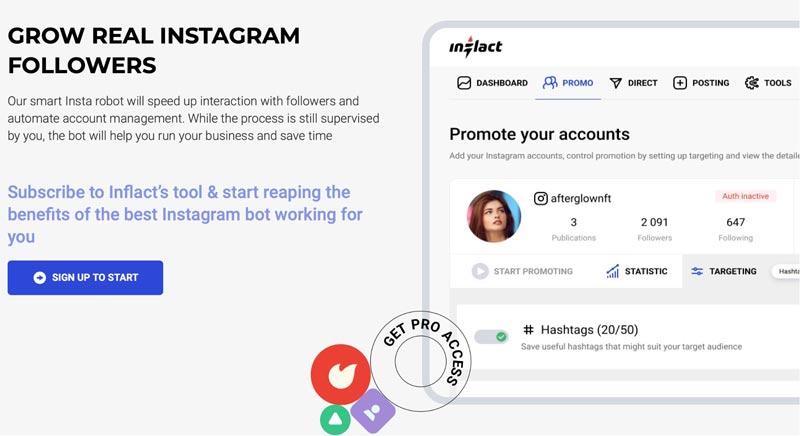 Based on advanced AI, Inflact's service is able to provide safe and fast Instagram growth by increasing profile activity. It'll help you gain real followers and increase organic traffic. Doing what?
1. Viewing people's stories. This simple action will improve your account exposure by showing your username in the story viewer lists. Odds are that seeing an unfamiliar name, users who posted the story will be curious to learn who it is. Voilà! They may come to your account and start following you.
2. Liking people's posts and comments. Do you feel happy seeing a new like under your post? So does any Instagram user who sees likes from your account (in fact, they're the Instagram bot's likes). They will understand that you carefully read their content and, better yet, may like you back.
3. Following users in a smart way — based on hashtags, locations, or other criteria that you add in the settings. It means you only will follow relevant users belonging to your target audience.
4. Turning the Inflact tool into a DM bot for Instagram with the Direct Module as it is able to communicate with users via Instagram Direct. Your automated assistant can send welcome messages and reply to queries that contain specific keywords. No message from a real or potential customer will go unnoticed.
The pricing depends on the subscription plan and starts at $54 per month for Basic which is followed by Advanced ($64/mo) and Pro ($84/mo). You can also purchase a 7-day trial Pro Pack for just $3.
Summing it up, we think that Inflact is the best option in terms of value for money.
2. Kenji
Kenji is one of the most suitable bots for gaining Instagram followers. Its main feature is automatic following and unfollowing which is believed to be the best way to grow accounts efficiently. Using the machine learning technology, the bot has been trained to predict who is most likely to follow an account based on similar interests.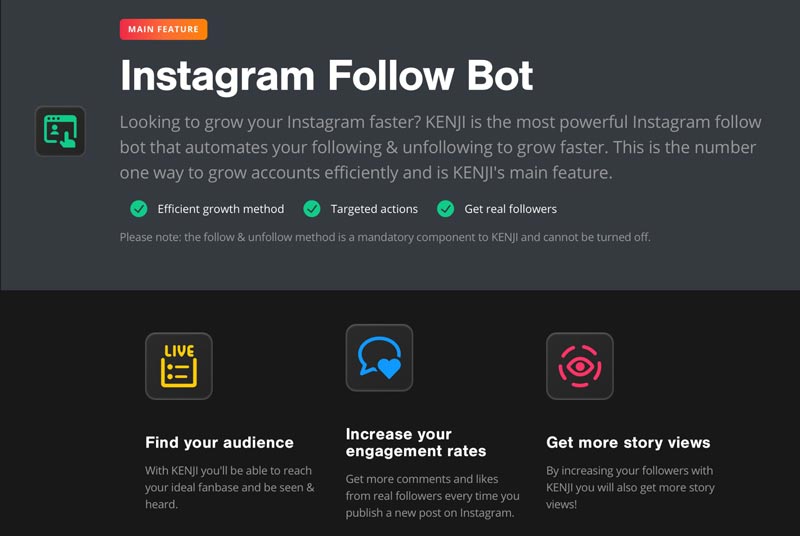 Kenji uses physical phones to perform actions on your account, mimicking human behavior throughout the day. For instance, it starts by warming up an account to avoid an action block. Warmups are performed by copying normal Instagram browsing behavior, like viewing stories and scrolling on your feed.
Its other features include blacklisting and whitelisting, targeting by hashtags and by influencers as well as analytics.
They offer two plans, Simple for $49/mo and Pro for $79/mo.
3. Nitreo
This full-fledged Instagram bot has got a variety of core automation features including following and unfollowing, comment liking, story viewing, and participating in Instagram live sessions. Also, you get a dedicated success manager when you sign up.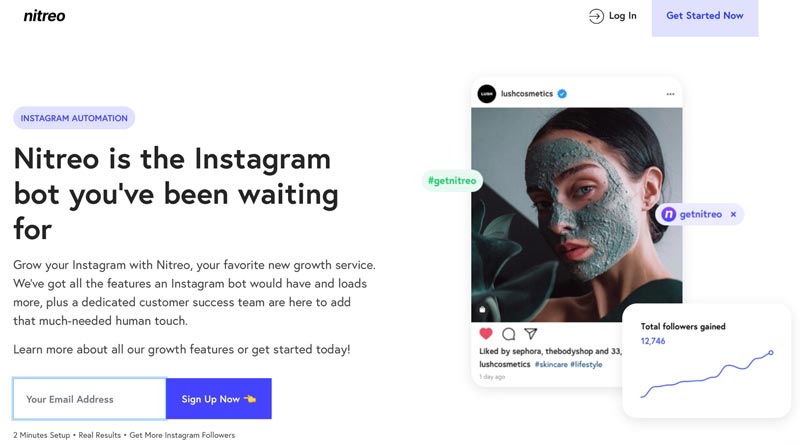 Based on a proprietary scoring algorithm, the tool selects and curates the best accounts to follow. The algorithm is used to rank hashtags and followers based on your initial setup, applying optimizations over time. It is also possible to target users based on their location.
Applying advanced parameters, you can adapt your targeting based on follow-back ratios and engagement rates. Nitreo also provides suggestions and improvements and even auto-applies them to your account.
Nitreo offers two plans — Essential for $49/mo and Speed for $79/mo.
4. Flamista
This is another straightforward and simple tool to use. Based on AI, its core Instagram account promoting features include auto interactions for following, unfollowing, likes, direct messages, schedule posting, and story reactions.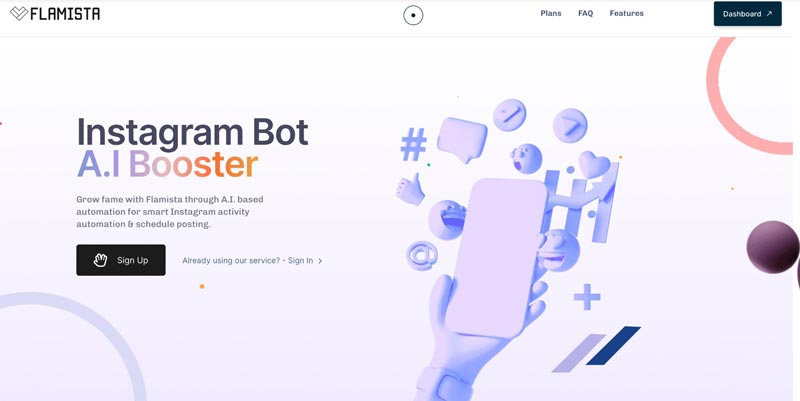 They provide useful tips on their FAQ page. For example, they recommend not to use all the bot's functions at once: "As an example, you should not use the Live function while the "Auto Follow" function is active. Because a normal human will probably not follow people while in Live".
Prices start from €19.99/mo for the Simple plan. There are also Popular for €29.99 and Premium for €41.99.
5. Flock Social
They promise to ensure organic Instagram growth by targeting and engaging with real people and active accounts. They also claim that they only focus on authentic users and genuine interactions helping users build authentic and long-lasting relationships with followers.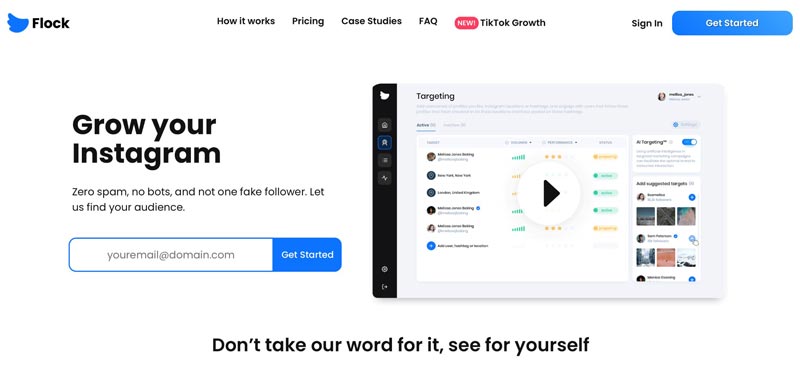 After your account is created, they will find similar profiles as they only target users that are genuinely interested in you and what you have to offer. They carefully select users best suited for your page based on content and interest similarity. Doing so they bring you targeted followers, real engagement, and conversions.
They offer two plans — an Instagram rising star at $49/mo and Instagram as a Business at $99/mo.
How to Use Bots for Instagram — Best Practices
The purpose of Instagram bots is to help you gain followers, increase engagement, and drive more traffic to your Insta page. To avoid any potential problems, follow these best practices:
1. Use reputable bots. Do research and read reviews to choose one that has a proven record of success.
2. Carefully read Instagram's Policies. The platform has strict policies on using bots, so make sure to familiarize yourself with them before using these automation tools.
3. Program your bot correctly. Customize your bot's settings to match your Instagram preferences, such as the number of likes, follows, and comments per day, and specify your target audience.
4. Keep it safe. Avoid overusing the bot, which may result in your Instagram account being marked spammy, suspended, or even banned. Run your bot in a human-like manner, which means following the Instagram limits, being mindful of your audience's time zones, and making natural pauses in the bot's activities.
5. Monitor results. Whether you're using it for b2c or b2b Instagram marketing, regularly track the bot's performance and measure the results. This data will be helpful in adjusting the bot settings for better outcomes.
Final Thoughts
Bots are not a magic solution to gaining more followers and engagement on social networks. Moreover, not all automation tools existing on the market are safe to use. However, if done correctly, Instagram marketing automation can be effective.
Choose a trusted Instagram bot, get familiar with the platform's terms of use, program the bot correctly, and analyze performance regularly. Keep calm and be prepared to wait till your account shows growth as success doesn't happen overnight.