Web hosting is the hidden base of the internet. Today, every site you visit is hosted on a server somewhere. If you are just starting with your enterprise website, your site too will need hosting, and one of the best options available is cloud hosting.
Instead of just being tied to one server, cloud hosting pulls its resources from different sources to create a virtual server.
If your website is using shared hosting and the server goes down, your site will also go down. If your website is hosted on a cloud server and it goes down, other servers in the network will pick up the slack. With cloud hosting services, you get an excellent balance between affordability and power.
What Is Cloud Hosting?
In cloud hosting, your website is stored on multiple servers that allow you to pull resources from different places. This indicates that cloud hosting is a highly scalable, reliable and flexible hosting, excellent for sites with high spikes and dips in terms of traffic.
So basically, cloud hosting is the best for anyone who needs flexibility. Imagine a plan like a pay-as-you-go mobile: you set your own resource limits each month, and pay accordingly.
If you want to run a big marketing campaign, for example, cloud hosting allows you to prepare for one busy month.
You will find dozens – if not hundreds – of hosting providers you can select from but finding the right one can be a daunting prospect. Therefore, here's a review of the best cloud AWS managed hosting provider.
What is MilesWeb?
MilesWeb is a hosting provider for all types of businesses that creates a concept to remove the pain of setting up and managing a server.
To tell you more about them, all their services are managed and offer quick services for deploying your website on the server.
Company and History
MilesWeb, based in India, offers two distinct services. They offer both – complete AWS cloud or services to manage your AWS cloud. The company was founded in 2012 and since then has been successfully meeting the customer requirements.
Are you thinking about hosting with MilesWeb? Or just starting with pay-as-you-go cloud hosting? I'll explain everything you need to know about it.
MilesWeb AWS Cloud Hosting Plans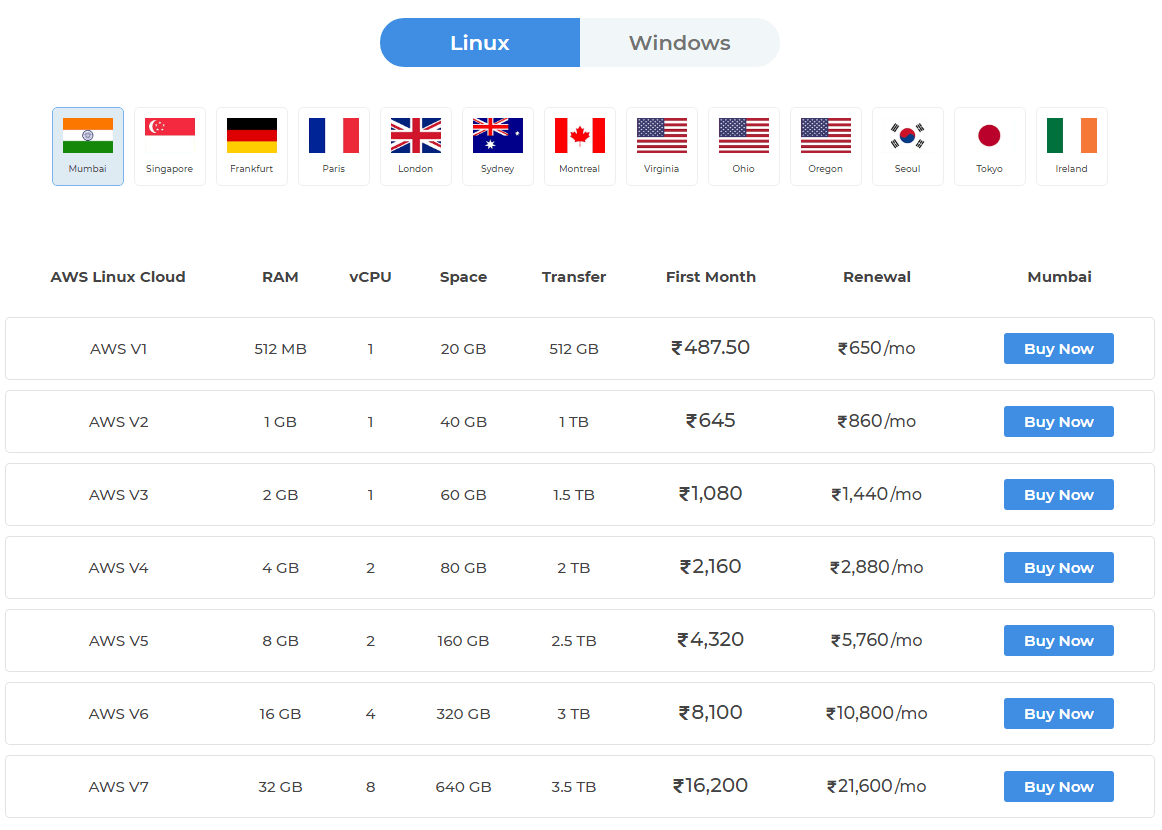 MilesWeb makes your cloud hosting journey successfully by offering you the below benefits:
Affordable: The main purpose of moving to the cloud is decreased cost. It means you need to pay only for the number of resources you have used.
Optimized: The advanced caching technology helps to optimize your AWS and helps to deliver improved performance as per your needs.
Security: Their AWS experts and tools used to manage the cloud, help to secure your server and data stored on it.
Expertise: Their AWS experts help build solution architects for your AWS environment as per your business requirements. Their team has received a certification from AWS and so is capable of taking care of all these tasks.
Features of AWS Cloud Hosting
AWS Certified Team: Their team has been certified by the AWS to manage your AWS platform. They understand the way to take your AWS server further to make it secure, powerful and easy.
Time-Saving: Since all the server related tasks like updates, patching or other daily operations required for AWS management are performed by their team. This helps to save your time and efforts.
24/7 Available Support: Their team is available 24/7 and so you can contact them via live chat or email.
Server Monitoring: Your server is continuously monitored by their experts for traffic spikes, infections, and other issues. This keeps your AWS server up and running.
Optimization and Growth: Your AWS server is enhanced for performance, security, and expenditure to offer the cutting-edge AWS services.
Increased Productivity: Instead of asking your team to manage your AWS cloud platform, allow them to focus on tasks such as building products, assisting customers and making profits.
Select Your OS: MilesWeb allows you to select your OS for your AWS cloud platform. You can select from Linux or Windows OS as per your needs.
Select Your Cloud Server Location: You can select your preferred several location from UK, USA, Australia, Canada, India, and Singapore.
Bottom Line
It is difficult for several companies to move to the cloud but with MilesWeb, it becomes very easy. Their team helps you in your complete process of AWS server migration. Whether you have queries related to AWS management or AWS consultation, MilesWeb is always there to help you. So, switch to MilesWeb and make your AWS journey successful.