DesignCap is presented as an easy-to-use tool to create posters and flyers in minutes. It has prefabricated templates as well as the possibility of creating your own posters and flyers from 0 using the images and text tools provided by the program.
DesignCap has hundreds of templates focused on gyms, wedding businesses, restaurants, and different business models. You can customize any templates to 100% unique according to your taste.
What benefits will you get in DesignCap?
More than a hundred professionally designed templates
Thousands of stock images, shapes, icons, and many fonts available
Fully customizable with the drag-and-drop interface
Free and easy to use, no graphics skills needed.
How to create posters and flyers in DesignEvo?
First, you can search by categories or by thumbnails to decide on a preferred flyer or commercial poster. There are hundreds of templates available for free, from personal posters for birthdays to professional flyers for bars, discos, tourism, events and holidays.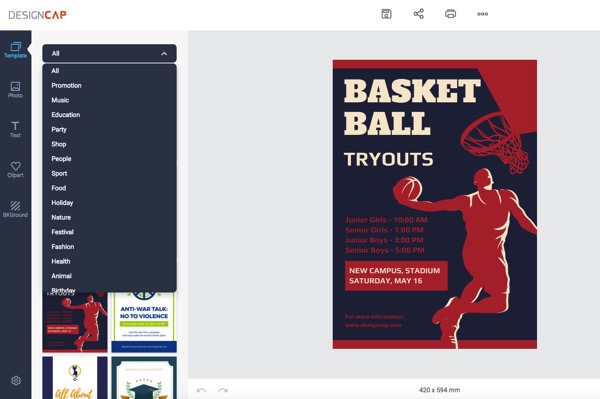 Once you have chosen a template that meets your goal or business, you can customize it and change any element of the template to leave it 100% focused on your business.
Next, you can add texts, shapes, images, and much more. With a few clicks, you can change the fonts, colors and manage the elements perfectly by simply dragging them to the desired place.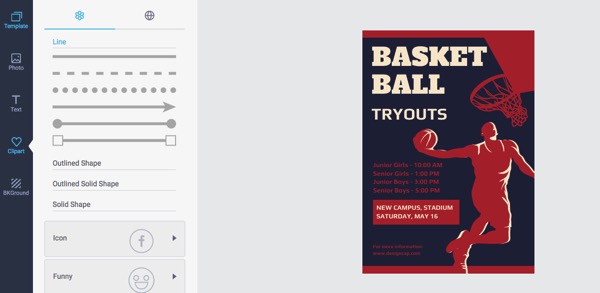 DesignCap has a lot of clipart separated by categories such as Travel, Nature, Holiday, Icon, etc. You can drag them to your work, resize and edit different aspects of them. Each element can be edited without limits. This gives you total freedom to create different designs with the aim of a Christmas poster, Easter or summer events.
In addition to this, DsignCap has also added the possibility of changing the background colors according to the desired occasion.
At the end of the project, you can share your design with your partners, customers, friends or family, save it and even print it. You can also load a half-finished project to work on it later.
CONCLUSION
Designcap is another alternative to the well-known Canva. You will have many tools and templates for free, more generous than Canva. You don't need to register for using it, and no additional program is required to install. The loading speed is fast at all times, even in low power equipment.
Perhaps, for more demanding users, the included tools or templates may fall short, but for intermediate or initiated users, it is a highly recommended tool with very professional results in most cases.