With the advent of games like PUBG and Fortnite, it's no surprise that the gaming industry is booming. With so much demand for high-quality gaming gear, innovations are popping up left and right, like cloud graphics cards (yes, you heard that right).
Are you guys ready for an amazing tech journey, including top-of-the-line gaming keyboards and as massive as 65-inch gaming monitors? You better be because it is time to unleash some of the best PC gaming hardware of 2018.
What to Look Forward to in Gaming Technology
The next best thing after the Ultra HD graphics and buttery gameplay that the PC gaming world can definitely agree upon is the cool & sharp gear sitting around your computer. Right from monitors to gaming chairs, keyboards, mice, and headsets, PC gaming tech goes way deeper than your main rig.
While we are all dreaming of getting our hands on that ultra-wide gaming monitor or fancy TKL keyboard, there are always new products to drool over. Think about wireless charging, bezeless screens, and touch-sensitive keyboards.
With that said, here's our 2018 list (some of the products included in the list have already hit the shelf, whereas others are due this year):
Asus Bezel-Free Kit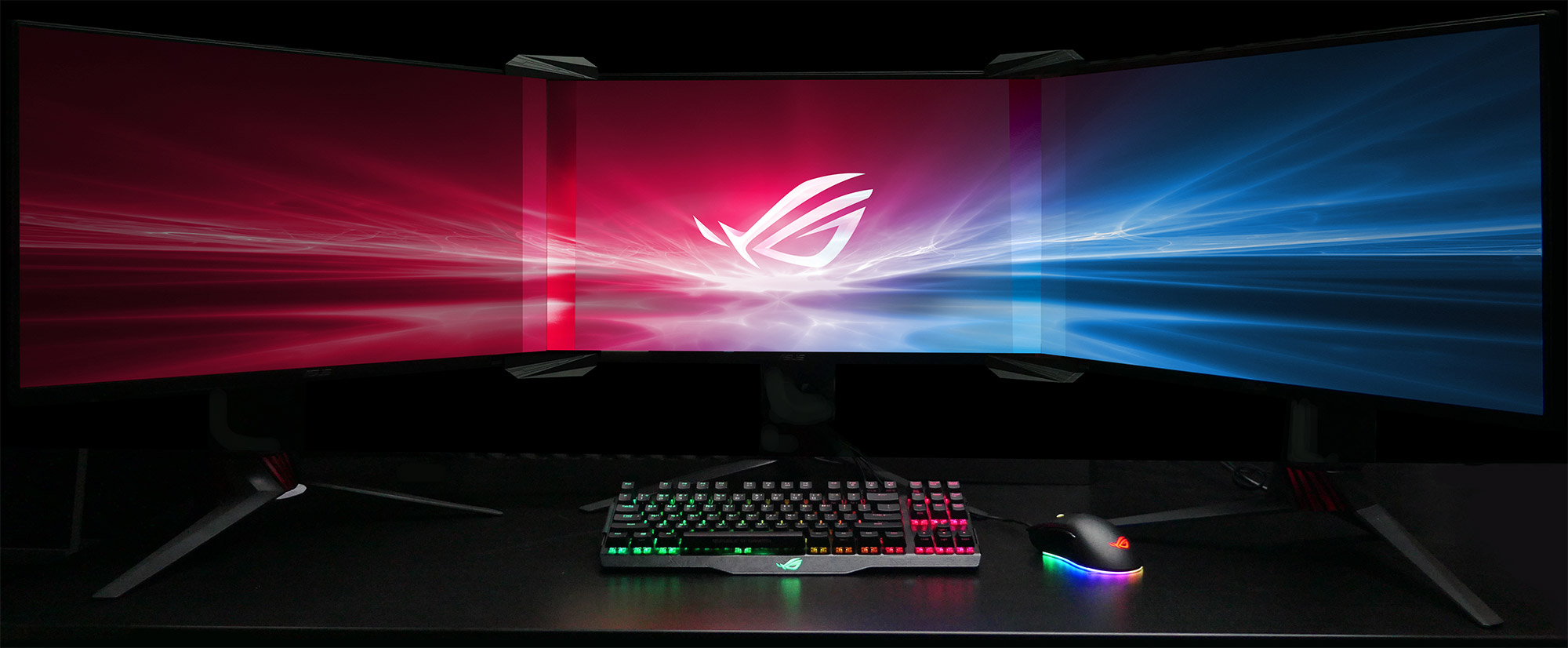 When it comes to a multi-monitor setup for PC gaming, the experience can be out of this world, especially for certain game genres, including racing and simulation. But, the only thing that can ruin all the fun is seeing bezel gaps between every screen.
Well, not anymore, as Asus' Bezel-Free monitor kit aims to eradicate this issue by optically merging two or more screens into one seamless picture.
It uses the magic of prisms and light refraction, which is why they can be slipped between any monitors with thin bezels.
In addition, they require no electronic control or power to work. In case you already have a dual or even triple monitor setup, this is the easiest way to DIY an ultra-wide screen setup rather than opting for a whole new display.
HP Omen X 65 BFGD
Big Format Gaming Displays by NVIDIA that are also abbreviated as BFGD, surely made a huge splash entering 2018. And the most impressive one is by HP.
We are talking about the Omen X 65 BFGD. With specifications, including a 65-inch panel, HDR compliancy, 4K resolution, 1-millisecond response rate and a 120Hz refresh rate, it's hard not to be knocked out. This is one true display for PC gaming.
NVIDIA GeForce Now (PC Beta)
While this may not be counted as a physical bit, NVIDIA GeForce Now is something which every PC gamer will love. The objective of this game streaming service is to turn any Windows desktop, laptop, or tablet into a fully functional gaming PC.
It doesn't matter whether it is a lowly netbook or a high-end Ultrabook, almost anyone can gain access to NVIDIA's extensive online PC game library. Now that's what we are talking about!
How does it work? Their new technology is also known as cloud graphics cards. It allows you to use a high-end graphics card by outsourcing it to the internet. Instead of purchasing a graphics card you can just pay a low price and use NVIDIA's. It's sort of like accessing your files from the cloud but instead, it's a graphics card!
Zotac AMP Box
We've witnessed several prototypes of the Zotac external GPU box for more than a year now, so we were excited to finally see it in its final avatar at CES 2018.
Unlike the Asus ROG Station 2 and Razer Core, the Zotac AMP Box is fairly small and designed only for mini GPUs. It is one of the most efficient GPU boxes out there, which is fully carved out of aluminum. This hardware also features a customizable RGB lighting setup.
Cooler Master MasterKeys MK851
The Cooler Master MasterKeys MK851 might look like another RGB keyboard but it comes with its own unique twist. Modern keyboards are known for their fully digital inputs, but Cooler Master has intelligently included eight analog keys around on its latest product. Apart from this, this also includes the WASD keys.
These analog keys are pressure sensitive, allowing for light or heavy presses. In gaming, this could result in walking, running, shooting faster, etc. They could be used as physical pedals in racing games and much more.
Razer Nommo Pro
Computer speakers are often ignored when it comes to a PC gaming setup, but the new Razer Nommo Pro speakers promise to deliver an incredible audio thump that headphones could never muster. The Dupont Kevlar coated driver in this 2.1 THX certified speaker system projects rock-solid mids, while the silk-woven tweeters generate balanced & smooth highs.
On the other hand, a cylindrical downward-firing subwoofer is specifically designed to produce an airflow for consistent deep tones. In our opinion, it's one of the loudest PC gaming speaker systems we've ever heard.
Corsair Dark Core RGB SE & MM1000 Qi
The Dark Core RGB SE is the first gaming mouse in the world with Qi-charging. When clubbed with Corsair's new MM1000 Qi wireless charging mouse pad, you'll never have to charge up again.
As an added bonus, this wireless charging setup works effortlessly with Qi-charging enabled phones. This includes Apple's top of the line the "iPhone X" and Samsung's "Galaxy Note 8".
Conclusion
As you can see from the list above, 2018 has a lot of hype for gaming technology! Seamless displays and cloud-based graphics cards almost seem like science fiction.
With gaming becoming an essential aspect of entertainment and income, you can expect even more advances in the years to come.
Share your thought in the comment section below!