Honor 70: Best Review This 2023
The Honor 70 is a new mobile phone from the international brand Honor that aims to provide a high-end experience at a low price. The handset speaks a great feature that you can have this 2023. This device features a 6.67-inch LCD, an octa-core processor, Adreno 642L GPU, and a 4800mAh battery. However, you will surprise yourself that it is beyond what you can imagine. This article will look at the Honor 70's key features and performance to help you decide if it's the right smartphone. This might be the best purchase you can do in the first quarter of 2023.
The Honor 70 Review
Design And Built
With a plastic back panel and a metal frame, the Honor 70 has a modern and sleek design. The Phantom Blue and Phantom Black colors are available for this type of phone. Furthermore, the back panel has a subtle texture that adds to the general aesthetic of the device and provides a comfortable grip if you plan on using it for an extended period. The device is also relatively compact and easy to hold, making it an excellent choice for those who prefer smaller smartphones over those with bulky designs.
Display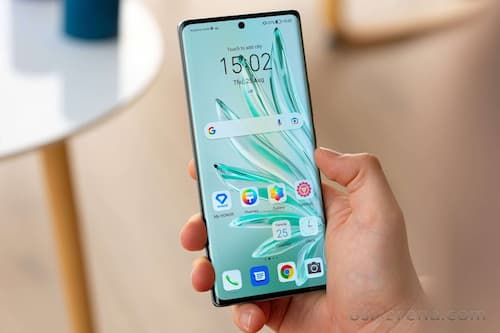 When discussing the honor 70 review, we should notice its display. The handset's 6.67-inch IPS LCD is bright and vibrant, with accurate colors and viewing angles that are pleasing to the eyes. Of course, the display has a Full HD+ and a resolution of 2400 x 1080 pixels, which provides a sharp and unmistakable image if you prefer to watch videos on the go. The display also has Corning Gorilla Glass 5, which is a nice touch specifically multi-touch gestures, up to 10 touch points supported at this price point and ensures that it will not break easily. If you are more on the smartphone's visuals, better get this one.
Performance
Another thing to think about is its performance. The Honor 70 is powered by an octa-core processor with Adreno 642L GPU, a high-end chipset that delivers smooth and responsive performance in 2023. The device also has 8GB of RAM and 256GB of internal storage, which provides plenty of space for your apps, photos, and videos, so if memory is vital to you, this is the device for you. Honor's custom user interface, Magic UI 6.1, powers the device. Furthermore, the UI is clean and intuitive, offering a variety of useful features and customization options that you will undoubtedly enjoy.
Camera
On the back, the Honor 70 has a triple-camera setup that includes a 54MP IMX800 super sensing main camera, a 50MP ultra-wide & macro main camera, and a 2MP depth camera. The primary camera takes good photos in well-lit conditions, with accurate colors and good detail, which you will undoubtedly appreciate if you like to take good images frequently. The macro camera is an excellent addition that allows you to take detailed close-up photos. Furthermore, the depth sensor produces decent bokeh effects in portrait photos, which isn't the best we've seen but is still impressive for a mid-range phone. In addition, the device has a 32MP super clear selfie camera that takes good selfies with accurate colors and detail.
Life Of the Batteries
The Honor 70 has a 4800mAh battery, which provides excellent battery life for a phone in this price range. Furthermore, the device can easily last a full day with moderate to heavy usage and does not require charging regularly. The handset also supports up to 11V/6A supercharge, compatible with 10V/4A super charge, allowing you to recharge the battery when it runs low after use quickly. This feature is handy, especially if you are a traveler.
Conclusion
That wraps up our 2023 review of the Honor 70 handset. So if you want a new smartphone and the most bang for your buck, the Honor 70 is a great option.