Many people think creating graphic elements and visual design of the game is quick and easy. But artists often work hard to ensure the final product is perfect. At the same time, game art and design are the basic and necessary aspects when creating a project of any level, whether an AAA game or a classic indie platformer.
The value of this aspect and its importance is essentially the merit of talented and professional artists and designers. With the help of colors, shadows, modeling, and other game art features, they create masterpieces that catch gamers and give high-quality visual design to games.
What Does a Game Artist Do?
If you thought that video game art design was simple and fast, then the information below will be useful for those who want to learn more about it and ensure that everything is not as simple as it seems.
A game artist is a versatile animator who creates both 2D and 3D artwork for video games. Whether working on a design brief or concept art, game artists express the script from the storyboard to populate the game's world and make it come alive.
An animator, artist, game art outsourcing studio, or agency may specialize in one or more of these areas as game development becomes more complex. Game artists are experienced in many aspects of game development, but there are still a few main tasks that fall into their field, such as:
Communication with the customer and leads regarding the concept and style of the game project,
Drawing sketches and concepts to build a work plan
Creation of 3D models, animations and textures
Level design and interface design
Maintenance of production documentation.
The list could go on and on, but aside from the aesthetics and visual aspect of a game, the work of a game design artist is a big part of the success of a game project. The game may be optimized and have good gameplay and mechanics, but it will not be interesting in terms of graphics and design. And at the moment, gamers primarily appreciate the visual, not the gameplay.
The Processes Of Game Art and Design
In games, developers have vast space for self-expression and creativity. Games combine elements from many existing art forms: literature, music, and sculpture, as well as computer graphics, animation, and more. Because to create a unique and high-quality product, the process can take a lot of time and resources.
A game artist creates 2D and 3D graphics to visualize a video game. The process is distributed, all roles are clearly defined, and everyone does their own thing. Usually, a game art outsourcing studio or company has several core employees, each with their tasks.
A game designer is a creative driver of the game and, in general, a cross between a writer and an artist with programming knowledge. The game design development section involves creating characters, goals, rules, and objectives that encourage interaction with other characters, or objects.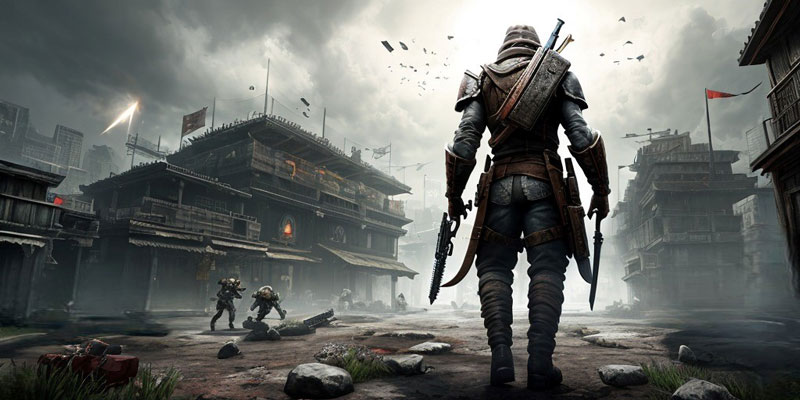 For example, the concept artist of the characters sets the pace for the entire project and gives the first impetus to implementation. A person creates a design; the main task is to transfer to a draft of the character's appearance. Before creating a character, it is crucial to understand what it will be like to convey the forms, features, character, and living conditions.
Those involved in creating game art and design can include animators, 2D / 3D texture artists, modelers, illustrators, and other important team members.
To become a professional in the gaming art industry, each team member knows the pros and cons of the other departments, even if the person is responsible for the opposite design process. This proves that even UI and UX game designers must have the experience to influence the process as efficiently as possible.
Where to Start Becoming a Video Game Designer?
The Internet represents a huge field for implementing and developing a game designer. As in programming, design requires a certain knowledge base and software. It may require knowledge of Adobe Photoshop, After Effects, 3D Studio Max, Maya, Zbrush, and several programming languages.
If you have basic knowledge and experience in design, you can, for example, get an internship. This can develop into a full-time job if you prove yourself. Another way is to get a job as a tester. This will give you an understanding of how a game studio works from the inside out. Top studios rarely take on newcomers, but even small studios are happy to welcome a promising video game art designer.
Another way to gain experience is to go to university or take courses. Now all over the world, there are many different educational institutions or game design schools online. Such training will give you the necessary theoretical knowledge and, possibly, basic programming skills.
Game Art Degree and Training for Game Artists
The number of game art schools and their reputation is growing every year. Therefore, getting a professional education and an art level is not difficult. Even self-study or training on free courses and guides can be beneficial for the future realization of a person as a professional.
Most modern video game graphic designers are self-taught because your style is sometimes difficult to develop in different video game design schools. But this does not mean that such institutions are bad. Vice versa, it is an ideal option for those who want to start from scratch and gain experience faster and more efficiently. Of course, the question of money and other costs will arise, but all this will be leveled in the future.
Conclusion
Becoming a video game designer requires knowledge, skills, and constant improvement. The tasks that game designers perform are complex and sometimes seem impossible. But of course, as a result, gamers get incredibly detailed and graphically high-quality projects, even in the mobile market. The job of a game designer is often challenging and stressful. But the industry is gradually working to improve the ecosystem and make it easier for newcomers and talented artists to enter.
FAQs
What skills do you need to become a game artist?
First, this is an essential understanding of art (anatomy, color psychology, working with shadows, etc.). And also knowledge of software and game design theory will also be important.
How much do game artists typically make?
Freelancing a game artist can earn from $30 to $200 per project. On average, an aspiring game artist and designer earns $60,000 a year working in a game studio.
What are some common challenges game artists face?
Underestimating the complexity and depth of a project is a common challenge for even the most experienced artists.
How do you become a successful game artist?
Practicing and building a portfolio is a key tool for becoming a successful artist and competitive employee.
What are some resources for learning game artistry?
YouTube is a huge platform for learning and gaining experience. There are also various Discord channels and online platforms like Polycount and Pluralsight with professional members and game art degree coaches.