everyone who loves dating sites wants to know about the POF username search. after they closed the search by username on Plenty of Fish website, so in this article, we will see how to search by POF profile by using other sites.
POF (Plenty Of Fish) is an online dating service that is available in nine different languages, gaining popularity in Canada, Ireland, the USA, Brazil, Australia, and New Zealand. Plenty Of Fish is free to use and provides a premium membership, POF based in Vancouver.
Plenty Of Fish appeared in some of the most famous videos in 2010, such as Lady Gaga's "Telephone" and "We R Who We R" for Kesha. it also appeared in 2011 on a video clip of the famous singer Britney Spears "Hold It Against Me".
The Plenty Of Fish database contains more than 100 million users and is the largest base of members from any other dating site. The site receives more than 55,000 members per month and more than 3.6 million users per day and has more than 10 million conversations.
Unfortunately, the search feature has been removed on Plenty of Fish and you will not be able to use it anymore. But nothing is impossible and they will not be able to stop us. In the following explanation, we will see how to look for a POF username on Plenty of Fish by using an external site, follow these steps:
plenty of fish username search
go to scrapersnbots.com search page.
scroll down and type pof username you want to search.
Hit the "Search POF for Username" button.
Now scroll down you will see all results.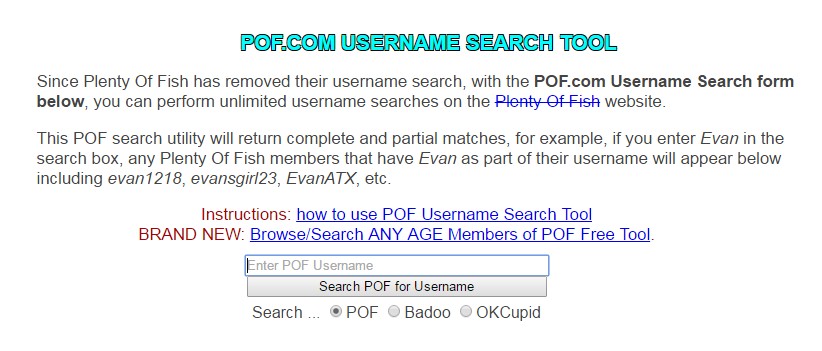 using google search engine
you can use google search engine to search quickly, type "Site:http://www.pof.com/ USERNAME" in the google search engine and replace USERNAME with the name you want to search.

Note: Make sure that you type the user name correctly because if you type one character incorrectly, results may not appear in the search.
If no results appear in the search engine, then there is no username in the POF that matches what you wrote in the text box. Then you have to change the username of the user you are looking for.
We hope that we have provided useful information to our visitors on how to search by POF username on the Plenty Of Fish site. For any inquiry please leave a comment below and we will reply to you as soon as possible.