Losing precious photos due to accidental deletion from SD cards can be quite painful and frustrating at the same time. There are several other reasons as well why pictures may get deleted from your SD card. Whatever is the cause for your photo loss, there's no need to despair. You can use proper tools and techniques to recover deleted photos from your SD card and get your precious moments back.
This article defines several DIY methods to help you know how to recover deleted photos from SD cards effortlessly. Along with these SD card recovery methods, we will also discuss the causes of such photo loss issues and tips to avoid such issues in the future.
What Causes the Deletion of Pictures from SD Cards?
There are many reasons why data files, including pictures get deleted from your device. Some common causes are:
Accidental Deletion: One of the main causes of photo loss issues is when you delete them from your SD card mistakenly while navigating through other files.
Formatting: When you format your SD card, it erases all the data from it, including photos. Before you format any drive or card, make sure you have a proper backup of important files stored on your device.
Corruption: Many reasons, such as improper ejection, power failure, or even manufacturing defects, are responsible for corruption or even data loss issues on your SD card.
File System Errors: Any sort of file system-related errors on the SD card can make your pictures inaccessible or cause them to be deleted.
Virus or Malware: Just like computer systems, your SD card sometimes gets infected by viruses or malware, leading to photo loss issues. Such malicious software can disrupt the card's ability to store or recover data files properly.
Quick Methods to Recover Deleted Photos From SD Cards
In this part of the blog, we will discuss some SD card recovery methods you can apply to get deleted photos back on your SD cards. If you have created any backup of your deleted pictures earlier, you can use it to restore lost photos. Otherwise, you can use any professional photo recovery software to restore your deleted pictures. Let's discuss each of these recovery methods in detail:
Method 01: Restore Deleted Pictures via Backup
If you are good enough to back up your important pictures on any external device or cloud storage locations before deletion, then you can use that backup to restore lost files. Even Windows OS has a built-in Backup and Restore option which can help you to recover lost pictures if any data loss occurs.
To recover deleted pictures from SD cards using the Windows backup feature you need to:
Firstly, connect the storage device which contains the backup of your deleted files to your computer.
Now, right-click the Windows Start button and then go to the Control Panel. Click System and Maintenance, followed by the Backup and Restore option.
Select one option among Restore my files or Restore all users' files.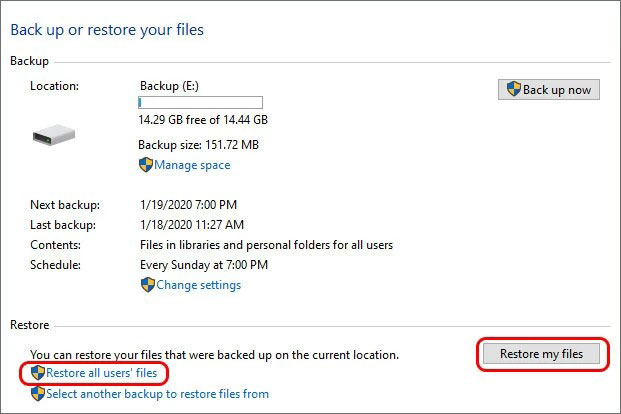 After that, tap the Browse for Files or Browse for Folders option to browse for your missing photos.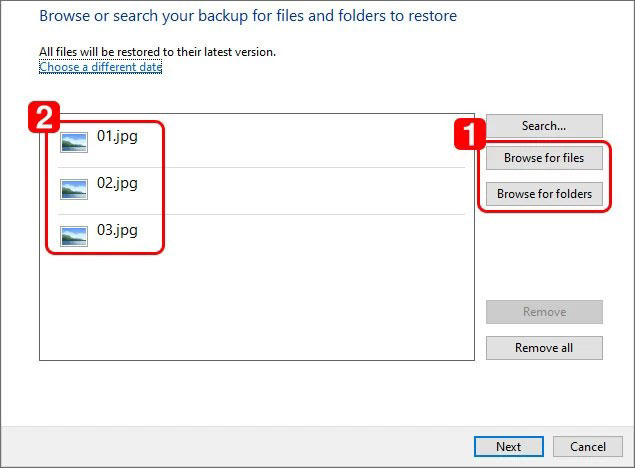 Choose the files that you need to restore and click the Restore button to recover them.
Method 02: Use Data Recovery Software to Recover Lost Photos
In case, you haven't created any backup of your deleted pictures, you can use professional photo recovery software to restore your lost photos. There are several such recovery tools available online, but Stellar Photo Recovery software offers everything that you need a data recovery app to be. The software is fast and designed with an easy-to-use interface which can help even beginners to restore lost pictures easily.
Some of the best features that the Stellar Photo Recovery tool offers are as follows:
The software supports recovery of deleted pictures from all internal and external storage devices, including SD cards, HDDs, SSDs, USB Flash Drives, etc.
Support recovery of pictures deleted due to any reasons, including accidental deletion, lost partition, crashed storage device, RAW recovery, and more.
The software is compatible with all Windows and Mac devices and recovers files with 100% safety and security.
It allows you to preview the recoverable files before saving them on your device.
Now let's check how to recover deleted photos from SD cards using the Stellar Photo Recovery tool:
Start by downloading and installing the Stellar Photo Recovery tool on your device. Now, launch the app, and from the homepage, select the location from where you need to recover lost files and click the Scan button.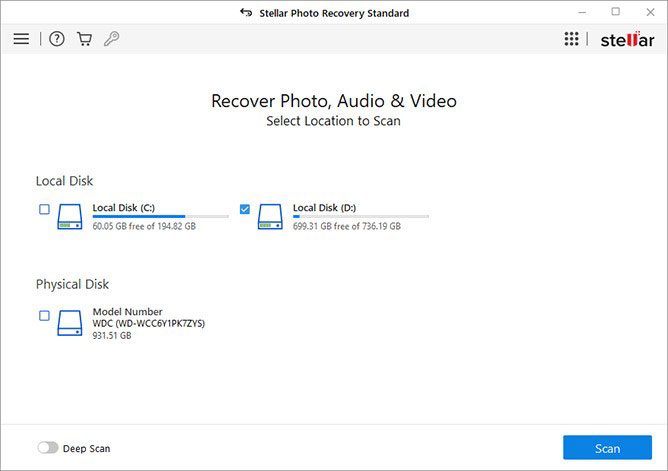 After completion of the scanning process, preview the recoverable files.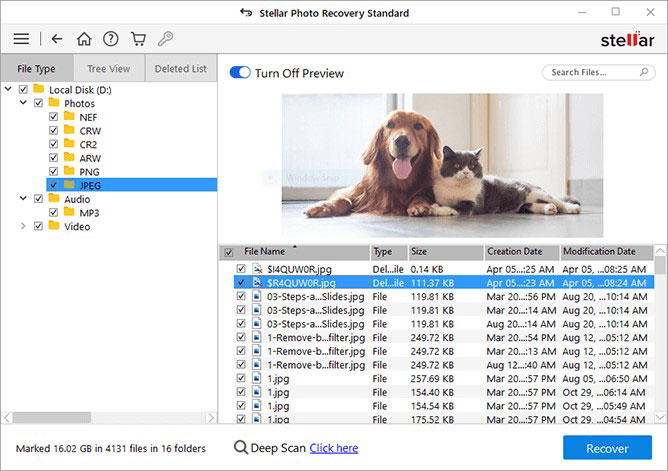 Select the files that you want back on your device and click the Recover button to save them at the desired storage location.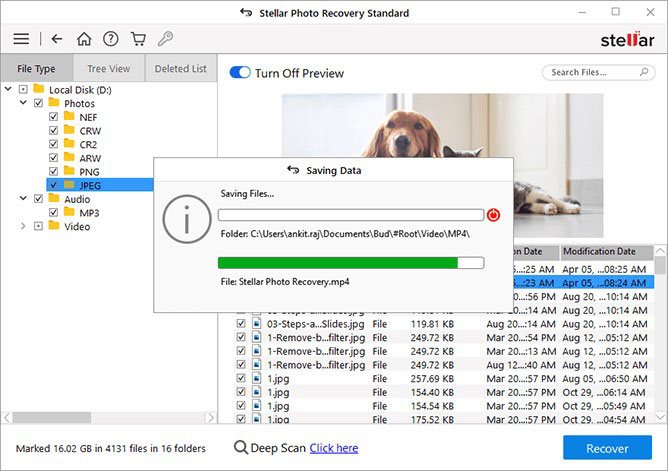 Tips to Avoid Photo Loss Issues on SD Cards
Now that you are familiar with the SD card recovery methods to restore lost files on your device, it's important to keep some common precautions in mind to avoid such issues in the future. Here are some tips to help you avoid such photo loss issues from SD cards:
Make a habit of regularly backup your important pictures on a computer, external storage devices, cloud storage, or other reliable backup solutions.
Always eject your SD card or any external storage device safely from your computers. Make sure all data writing processes are successfully completed before removal.
Avoid filling your SD card to its maximum capacity. Always keep some space available for new files without overwriting the older files.
If any data loss occurs on your device, use reputed data recovery software to improve the chances of recovering lost photos.
Wrapping Up:
By applying the aforementioned SD card recovery methods, you can easily restore deleted photos from your SD card. So, if you are wondering about some DIY methods to help you know how to recover deleted photos from SD cards, then you can always refer to this guide. Always make a habit of creating backups of your important files, including your precious moments. However, if any backup was not created earlier, you can use a professional photo recovery tool such as Stellar Photo Recovery to recover deleted photos.