Transform your look effortlessly with glueless wigs, a revolutionary hair accessory gaining traction in the fashion and beauty domain. Luvme Hair is at the forefront of this trend, offering glueless wigs that are not only convenient but also versatile, making them the go-to choice for natural-looking hair without the fuss of adhesives.
Table of Contents
The Mechanics of Glueless Wigs
The Perks of Opting for Glueless Wigs
Styling Freedom
Caring for Your Glueless Wig
Selecting the Perfect Glueless Wig
How to Don a Glueless Wig with Grace
Keeping It Real: Natural Appearance Tips
Luvme Hair: The Place to Be
Final Reflections
The Mechanics of Glueless Wigs
Glueless wigs are ingeniously designed with adjustable straps and combs that ensure a secure fit, eradicating the need for any glues or adhesives. These wigs are particularly beneficial for those with sensitivities or allergies to the adhesives typically used in conventional wigs.
The Perks of Opting for Glueless Wigs
Simplicity and Flexibility: Glueless wigs are a breeze to put on and take off, making them an extremely practical choice for everyday wear or special events.
Natural Hair Protection: These wigs serve as a shield, protecting your natural hair from damage due to heat, chemicals, and excessive handling.
Comfort: With their lightweight and breathable nature, glueless wigs ensure that comfort is never compromised.
Styling Freedom
With glueless wigs, the styling possibilities are boundless. Create sophisticated updos or chic ponytails for any occasion. Moreover, human hair glueless wigs can endure the heat from styling tools, allowing you to experiment without limits.
Caring for Your Glueless Wig
Regular Cleaning: Aim to wash your glueless wig every 10-15 wears with specialized shampoos and conditioners to maintain its luster and texture.
Gentle Detangling: Use a wide-toothed comb or wig brush to gently detangle before and after wearing.
Proper Storage: Store your wig on a wig stand or in a breathable bag, avoiding direct sunlight and heat.
Selecting the Perfect Glueless Wig
Length and Texture: Choose a length and texture that complements your style. From pixie cuts to long tresses, and from straight to curly, the options are endless.
Cap Design: Ensure the cap has adjustable straps, combs, or clips for a secure and comfortable fit.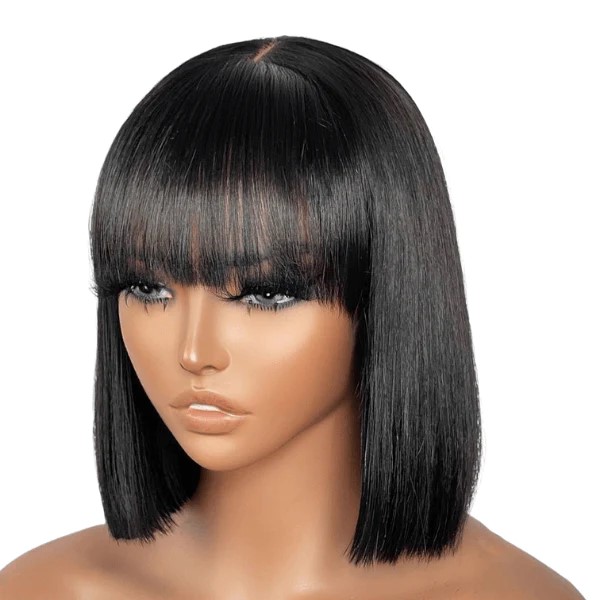 How to Don a Glueless Wig with Grace
Prep Your Natural Hair: Make sure your hair is clean, dry, and flat.
Adjust the Wig Cap: Position the wig on your head and secure it using the adjustable straps and combs.
Secure with Combs or Clips: Use the combs or clips to anchor the wig to your natural hair.
Keeping It Real: Natural Appearance Tips
Customize the Hairline: Trim any excess lace to match your natural hairline.
Makeup Magic: Use foundation or concealer along the parting and hairline for a natural scalp look.
Accessorize: Experiment with headbands, scarves, or hair clips to add flair and conceal any lines.
Luvme Hair: The Place to Be
Luvme Hair elevates the glueless wig game with its high-quality human hair options. The brand's wigs are a canvas for creativity, be it sleek straight hair, bouncy curls, or waves. Luvme Hair has got you covered.
Final Reflections
Glueless wigs have opened new horizons for wig enthusiasts by blending convenience with style. With no need for adhesives, these wigs are ideal for those with sensitive skin and anyone seeking an easy-to-use alternative to traditional wigs. Luvme Hair stands out in this segment by offering a plethora of options that guarantee a perfect fit and impeccable style. Proper care and maintenance are essential for prolonging the life of your glueless wig. Embrace the versatility and freedom that glueless wigs bring to the table, and unleash the limitless possibilities of your personal style.