The evolving vibe of the eCommerce industry cannot be and shouldn't be ignored at any rate. And you know what is the best part: commencing an eCommerce startup doesn't cost an arm and a leg. Today anyone can develop an eCommerce store, all you need to do is seek for reputed Magento developers from India and share your requirements and see how these experts will ensure how you outdo your competitors.
However, what's more, trickier is to survive or succeed in the cut-throat competition. Not to mention that the online market is getting fierce day in and day out, especially with the rise in companies such as eBay and other known mid-size names. So it's no longer about just developing a Magento eCommerce website but running it successfully.
One thing is for sure, running a successful eCommerce store is not just a passing fad but it is here to stay for the long haul. And this is why I have come up with the following post that emphasizes on the eCommerce industry and certain tips to boost the sale of your Magento store.
Introducing the Rise of eCommerce
Electronic Commerce, eCommerce for short, is a basic activity of buying and selling products via the internet. Products can be anything from apparel and accessories to shoes, electronic items, home decor, books, and groceries, anything that you buy online is considered an eCommerce transaction. Not just buying but eCommerce also involves the task of selling online. Gone are the days when Brick and mortar stores were the only option left for the customers whether they like it or not. In fact, now people can buy things sitting on the sofa wearing those comfy pajamas.
Yes, you no longer will be forced to get dressed when it comes to shopping. On the contrary, you can shop whenever and from wherever you feel like, if you want a break from your work you can browse things, if you are sitting and waiting for someone to join you for dinner, you can scroll easily and add the likable products to your cart at a different point in time. Well, I am not saying that brick and mortar stores have completely wiped out but yes to some extent eCommerce seems to have overpowered them.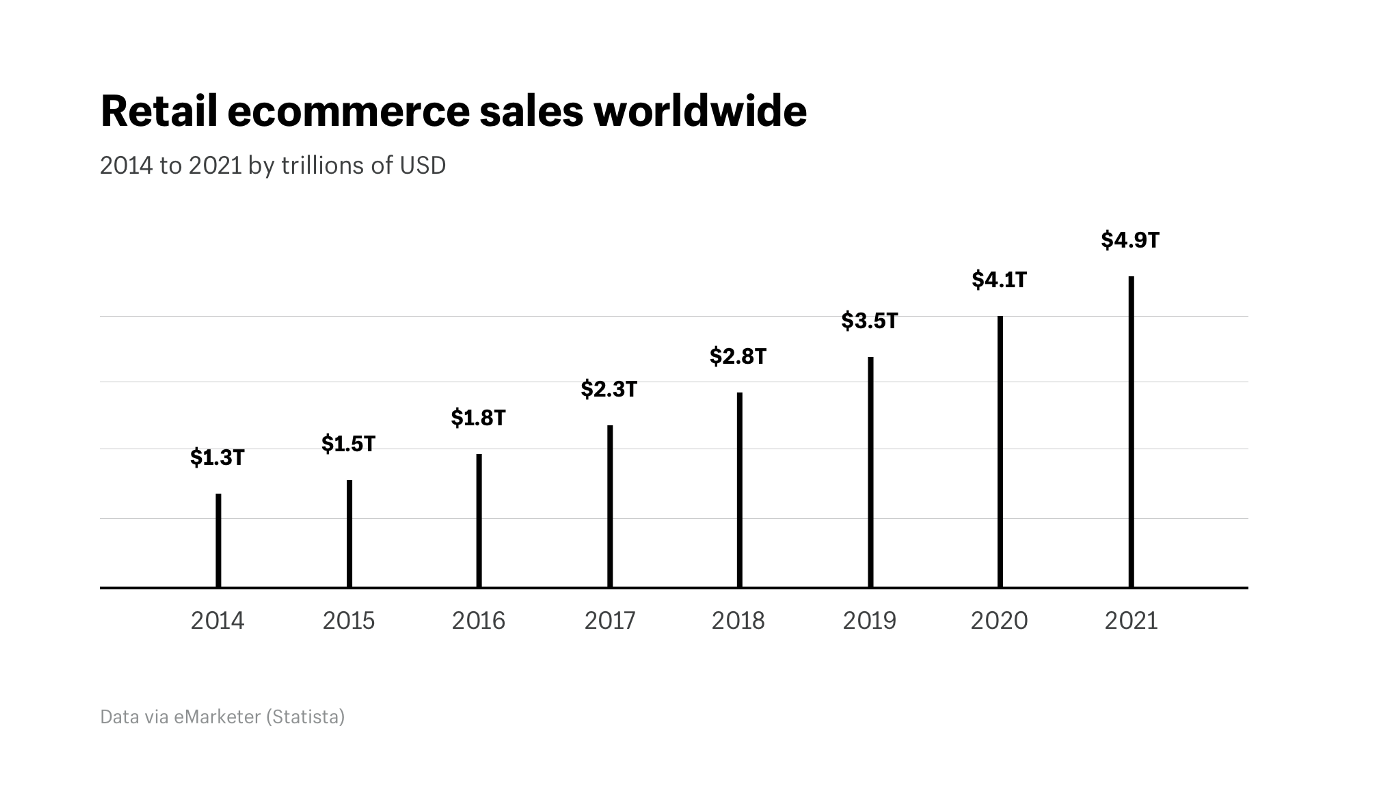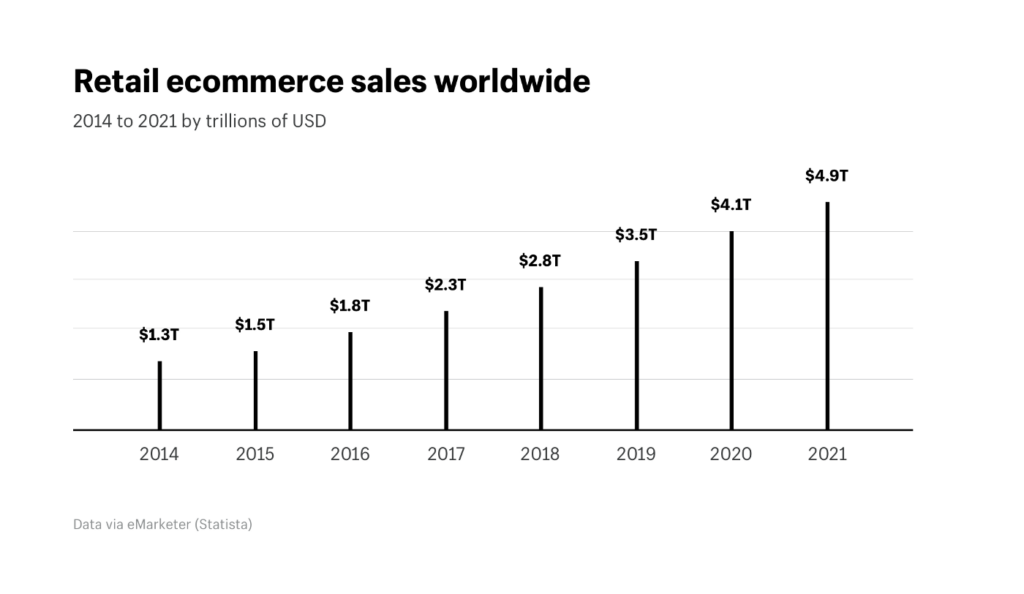 Source
The numbers never lie! You can see for yourself. It seems like more than a 200% increase has been found in the rise of eCommerce stores and no matter what it's not going to slow down anytime soon. Now, do you know what is the major source of such an explosion? Your smartphone devices. No kidding! With the unexpected rise in smartphone devices, people are found buying and selling items over the internet more than ever actively and passively.
Moreover, companies are found transforming their payment methods making them more secure, safe and simple. So now you know why you and your loved ones are always hooked on your smartphone devices, ready to pay with one tap.
Other than that, with the rise in eCommerce consumers are found satisfied and happy more than ever. I mean it's a place where you receive products at affordable rates or discounts, hassle-free shopping and checkout, and personalized options based on your search history, why the heck shouldn't consumers go gaga over it. The entire process of buying products, paying online, and receiving them right at your doorstep without moving an inch is simply incredible, all thanks to eCommerce.
Further, I would like to shed some light on certain benefits offered by eCommerce or why your business must consider eCommerce right away!
Benefits of Commencing an eCommerce Store
Low costs
Speed and Reduce time to market
Quick buying
Convenience
Wider customer base
Instant reviews and ratings
Scalability
Global sale
24/7 services
Showcase different products
Personalized customer service
No wonder eCommerce stores are evolving at a breathtaking speed with the internet and smart devices becoming easily accessible almost everywhere. Not moving with the herd would be a foolish step to take. Plus you will be lagging behind and will have a lot to lose. So now you know exactly what the eCommerce vibe is going on!
Imagine you have already developed a Magento eCommerce store with the help of a reputable team of Magento developers, what next? Well, here I would like to mention certain eCommerce tips that will boost your Magento Store Sales to a great extent. Without further ado, let's get started!
Certain eCommerce Tips to Keep in Mind When Running a Magento Store
When speaking about the term eCommerce, Magento will be included in the conversation since it is one of the leading open-source eCommerce platforms available across the globe. Other than being open source, Magento offers high-end flexibility, scalability, growth, and robustness in a single go. Moreover, even once the website is created, it can be modified according to your business requirements and in such a way that it drives more traffic and successfully transfers potential visitors into regular customers.
But here's the catch, how to drive these window shoppers into regular customers?
#1 Giving a Personalized experience is the need of the hour
The first and foremost tip to take into account is offering a personalized experience to your end-users. Now tell me something you are planning to head out to dine in a fine restaurant, you have two options. Option A has a generic Buffet dinner where all the standard items are presented in front of you and Option B is a place where first they try to understand your taste and then offer you food accordingly. Which one will you prefer? It's a no brainer! Obviously, Option B, right.
You see at present personalization or offering a personalized experience to your end-users is something that can give you a competitive edge. Also, several stats have revealed that by incorporating personalization, the profits have increased significantly by almost 15 to 16%.
Since we are talking about offering a personalized experience via your eCommerce store what can be done is try addressing them by their names and showcase products based on their search histories, and preferences. The eCommerce store must be able to recommend products or suggest valuable items again on the basis of their previous purchases.
See which products have been added to the wishlist. Try to offer promo codes and heavy discounts on them. By doing these gimmicks, you can increase ROI and brand loyalty at the same time.
#2 User-Generic Content is Totally in!
When it is said to be user-generated content? Well, I am sure today almost every website comprises FAQs, product reviews and ratings, and testimonials given by end-users of the brand. This is user-generic content. Yes, gone are the days when a website simply was supposed to be informative and monotonous. At present, innovation is the key, the more unique it turns out to be the more attention will be grabbed.
So yes, keep your eCommerce well-integrated with social media accounts, and try harnessing the power of reviews and testimonials. Also, enable your customers to portray their buying experience on your website. You see networks such as Facebook and Instagram can work wonders here. Most people tend to remain active for like 2-3 hours on these sites, so what can be done is harness attention via these websites to your eCommerce stores.
#3 SEO-friendly
Since Magento is SEO friendly in nature so you might not have to worry about the initial ranking on the Google search engine but if you are planning to stay for the long run then you must consider SEO performance. Enhancing SEO will ensure that your eCommerce store stays high on the SERPs resulting in more reach and visibility.
Here is the big question, how? Simple start by optimizing meta titles and descriptions. At the same time, use Google Analytics to find out what works well for your brand and what doesn't. The more audits and analyses you do, the more chances of your website to rank and stay on top for a longer period of time.
Use Ahrefs, Screaming Frog, and other such crawlers to ensure that both off-page and on-page optimization is apt for your online store. Also, consider Magento Search Engine Optimization Suite for the same.
#4 Speed and Responsiveness
Another interesting eCommerce tip to take into consideration is focusing on speed and responsiveness. Now different people tend to use different devices for purchasing online products. You see, if the site takes more than three seconds to load, forget about your customers. They are definitely going to switch to your competitors. With everyone having a high-speed internet connection, websites are expected to load within a few clicks.
Other than the speed of the website comes its responsiveness. Your website or eCommerce store should be able to open appropriately among all smart devices, whether desktop, laptops or mobile devices. So ensure that your website is well-optimized for all devices to improve the responsive time.
#5 Customer Feedback
No matter how basic this aspect is, it is extremely important especially if you want to boost your store's sales in no time. Now why customer's feedback given priority? Well, initially the reason was to enhance product development but now it helps in maintaining credibility and increasing engagement. In fact, the more you ask for feedback from your valuable customers, the more you are likely to perform well on SERPs.
As an eCommerce service provider, you are bound to embrace both positive feedback and criticism as both will result in making your online store more apt regarding performance. With appropriate negative feedback, there are high chances of you improving your loopholes and turning the tide.
#6 Do not Ignore User Experience
Have you ever thought of optimizing user experiences? If not then it's high time that I must start doing that right off the bat. So I assume that by now you have already considered all the other aspects and what you need to do is optimize the user experience.
By doing that you will be able to satisfy your end users to a great extent. Several stats have revealed that people tend to switch to your competitors as soon as they encounter a bad user experience.
Now here comes the big question, how? Well, start by improving the interface, offering wishlisting options, and ensuring a stellar user experience.
#7 Multiple payment options are in
It's a time when people prefer multiple options, especially while shopping. By using proper Magento development services, integrating payment gateways ensures customers a secure and rich shopping experience. Yes, try offering payment facilities using credit cards, debit cards, net banking services and eWallets and the list goes on!
Parting Words
Magento eCommerce development is a new rage, no two ways about it! This is one of the first and foremost steps toward a successful establishment of an online store. So if you end up creating a highly accessible, user-friendly, robust and scalable Magento web store, nobody can stop you from achieving new heights.
So that's all for now! I hope the objective of the post is achieved. In case, if you still have any doubts or queries, feel free to mention that in the comment section below.