Disk Cloning Tool – Best Software?
"Hello, all. I've currently got a 240GB SSD which I'm using for my boot drive and has my most used programs on it and I've got a good old 1TB lump of spinning platters as my storage drive.
As it does, my 240GB slowly filled up, and since the price of SSD is plummeting, I've dropped a 480GB inside the case to use that as my main drive.
I'm looking for some good software that I can use to clone my 240GB onto my 480GB and then wipe the 240 and use that as a backup."
Does Windows 11 have a cloning tool?
Just like in Windows 10, Microsoft only provides users with free backup software. With it, you can create a system image and then restore image to a new hard drive in Windows 11. It requires a backup disk to temporarily store the backup image and a destination disk larger than it, otherwise, you may receive the "system restore failed" error.
If you want a quick way to upgrade hard drive instead of only OS, it's suggested to try the best clone hard drive tool from a third-party company, such as, AOMEI Backupper Professional. It helps you clone all kinds of disks and ensure a secure boot.
Best Clone Hard Drive Tool – AOMEI Backupper Professional
AOMEI Backupper Professional is one of the best disk clone software, widely used in Windows computers users, such as, Windows 11, 10, 8, 7, XP, or Vista, which not only clones all kinds of disks (HDDs/SSDs or MBR/GPT disk) but also take care of the boot issues due to not enough space or cloned drive show wrong size. Below are excellent features you may use:
Disk Clone: It will clone the entire disk including the operating system (OS), system drivers, boot files, programs, etc, so you can boot from it successfully after cloning.
Intelligent Clone: It is the default cloning method, which backs up only changed files. So even the destination disk is smaller, this software can handle it well.
Edit Partitions: It helps to extend the extra unallocated space to other partitions manually or automatically to avoid cloned drive shows wrong size.
SSD Alignment: It makes full use of 4k technology, and can improve SSD disk performance as well as prolong its lifetime.
How to clone Hard drive to another one in Windows 11
Here take cloning disk to larger disk as an example, not only 240GB to 480GB, but also 500GB to 1TB, etc. Please follow the steps below carefully.
Step 1. Download and install the best clone hard drive tool – AOMEI Backupper Professional, and click Clone and Disk Clone subsequently.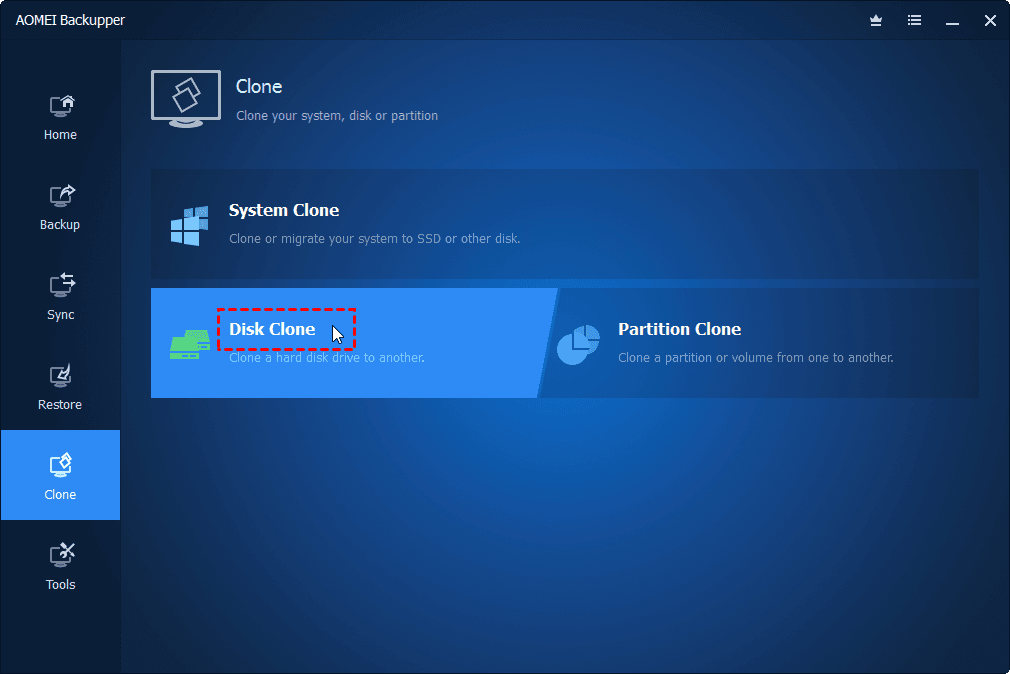 Note: The Clone feature can only be demonstrated in the trial version. Please upgrade to the full version of AOMEI Backupper Professional before cloning.
Step 2. Select your source disk and then destination disk. Click Next in order to continue this process.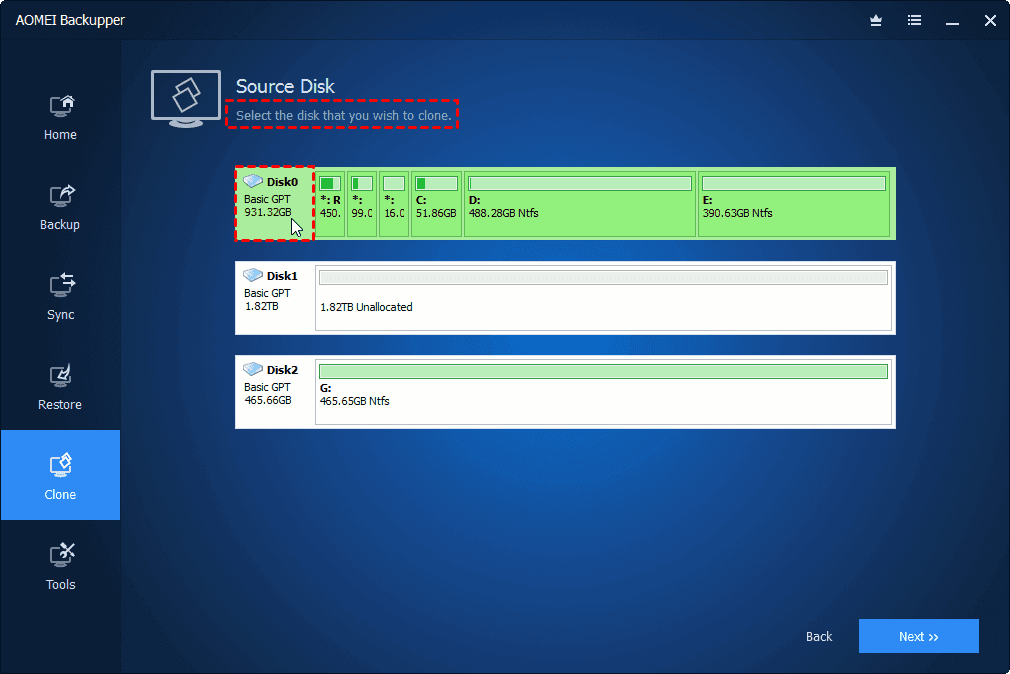 Step 3. Confirm you select the correct disk in the right order and click Edit Partitions to resize the partition size of destination disk, you can choose Add unused space to all partitions or Manually adjust partition size. And it also has the ability to convert disk type, from MBR to GPT or GPT to MBR. Then, click Start Clone to clone 240GB disk to 480GB disk.
Tips:
The Edit Partitions feature makes the Sector by Sector Clone feature invisible. It does not matter unless your source disk is encrypted.
If the destination disk is an SSD, please remember to tick SSD Alignment to optimize its performance.
Now, you may already clone hard drive to a larger drive successfully, you can try to boot from it. If want the fastest reading and writing speed, you can choose to use NVMe as boot drive instead of a SATA SSD.
Except for cloning, it is also a bare metal backup software, which helps you create a bare metal backup and restore image to new computer with different hardware. In its advanced edition, you can even deploy image to multiple computers.
Summary
AOMEI Backupper Professional is one of the best clone hard drive tools to help you clone hard drive to another one successfully without boot and disk capacity issues.
Not only HDDs, but also SSDs, both MBR and GPT, and various disk brands, such as Samsung, WD, Seagate, Intel, etc. So you can still use it as the best cloning software for SSD. For example, you can use it to clone SSD to larger SSD.