Hey, have you ever heard about the radius map? It provides the estimate of an area through a circle around a specific distance. Custom radius maps enable you to point out a given set of coordinates and draw a circle or circles around them.
A majority of radius maps provide details that include interstates, state highways, and a lot more. It is a unique way to determine your location.
Gone those days when you have to use paper maps and a ruler to determine your vacation sports. Today, you can use online radius map tools to see your destination within a given distance.
Radius maps are beneficial for businesses in the following ways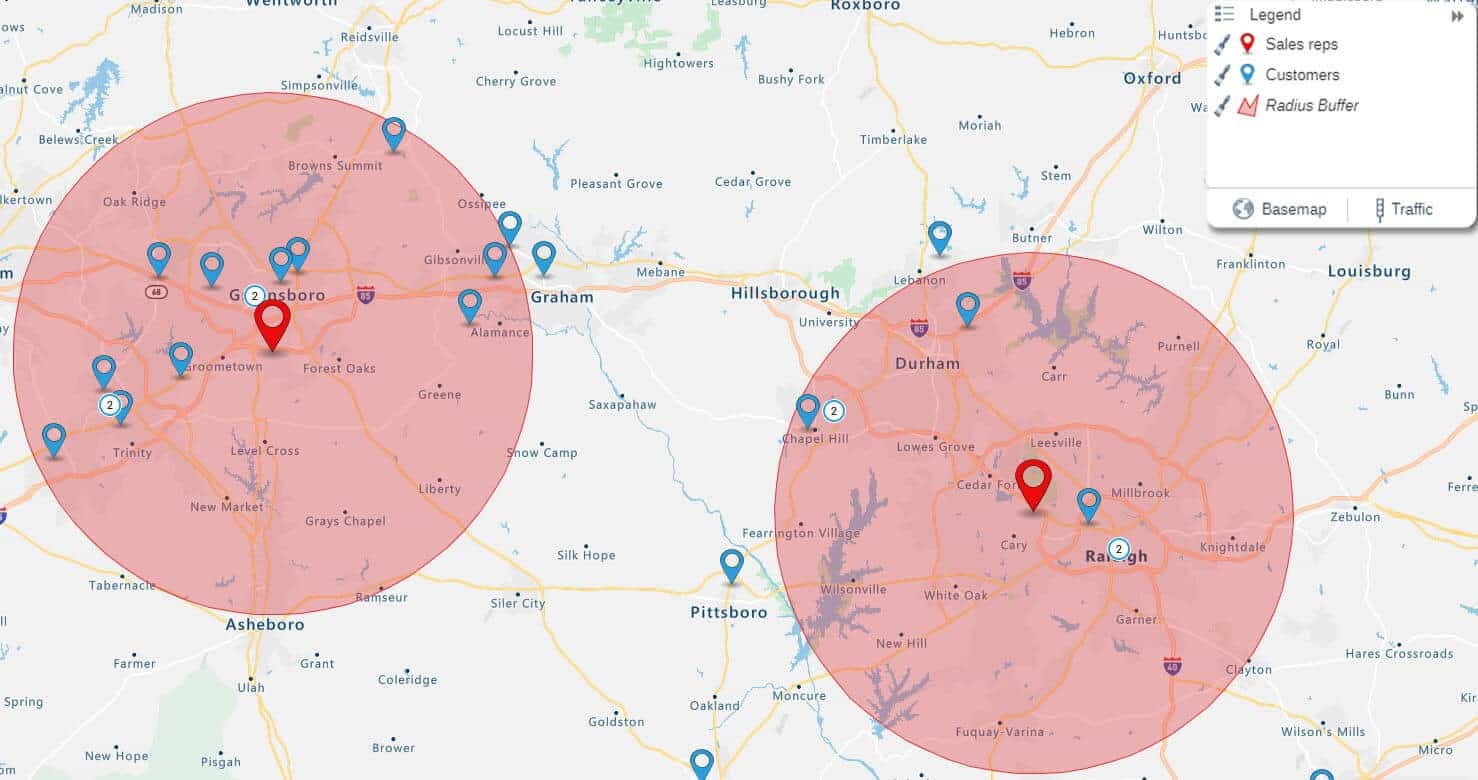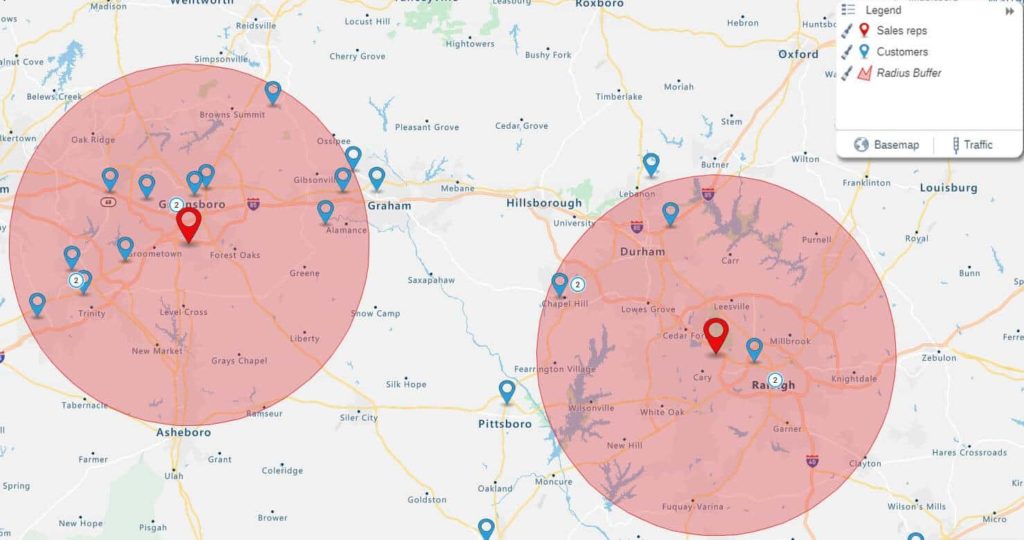 A radius or buffer map allows you to create a radius around your data points based on the distance. A map is much more than geographical illustrations. In today's internet era, you can achieve a lot with a powerful and insightful map.
They can be used to impress during a presentation, increase engagement on your blog/article, streamline your tasks or enhance the customer service experience. It can be modified as per your requirements whenever necessary. Have a glance at its importance in various fields.
For salesperson- The custom radius map outline specific territories that they have to cover. For territory management, a radius point represents a specific customer being the center point.
For restaurants- They help to determine how far they have to deliver?
For pizza delivery- They refer to their custom radius wall map to determine whether their delivery boy can deliver to a certain address in a given area or not?
To draw a 1 KM radius on google maps, select the units like (kilometers) in which you want to measure the radius. Click on the center point of your circle. Drag your mouse until the circle radius is I KM. Finally, click the map to complete your circle.
You can change the radius by entering the new radius in the field below and click the edit circle.
Smart Tools for Radius Map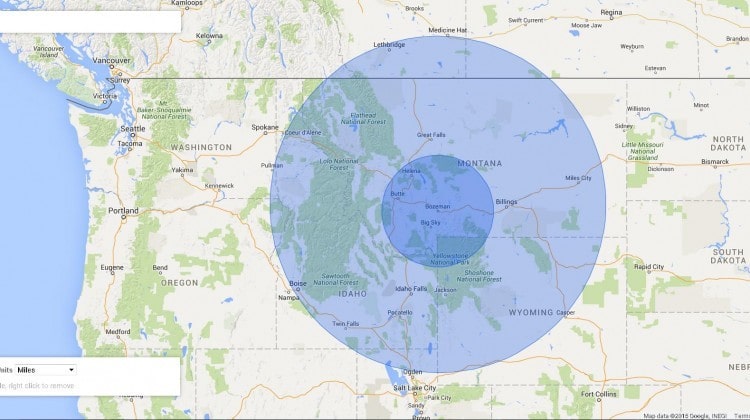 ShowMyMap's mapping software offers the same perks as Google maps. Their tools can be used to find directions, a specific address, calculate distances, and a lot more. Their superior tools are capable to give your maps the power of interactivity.
Filtering tools- This allows you to discover your data based on the requirements. These tools remove unnecessary clutter and provide a map that only highlights what you need.
Optimized directions- No more guessing, trials and errors. They will tell you the directions wherever you go.
Store locator- Make your business easy to find, so your customers will like to deal with you.
Heat maps- Create a map that shows density and update it whenever required.
Draw drive tool- Calculate distance to and from various locations and get visualized results.
Customization tools- Personalize your map according to your preference. Choose how your markers appear, what elements are displayed, colors you want to represent different data, and a lot more. Your map is your biggest asset so try to make it unique. Moreover, update the changes whenever required.
What is a distance radius map?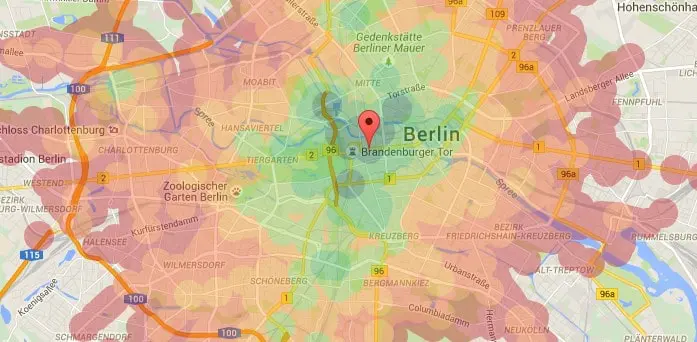 They are indispensable and create circles of a set distance around your data points. The maps are used as coverage maps to highlight where you have gaps in your sales or service coverage. Consequently, you can optimize your resource better.
For instance, they are perfect if you want to visualize your customer's within a 10-mile radius of your office location. Moreover, they can be useful for scenario planning, recruitment planning, and territory designing.
Creating a buffer for all locations is a unique way to visualize, understand and communicate the gaps for your business. Distance radius maps can be used in various ways.
Analyze your sales to improve efficiency
Map your land and property to understand adjacency
For planning sales and advertisement campaigns
Communicate complex data
Identify event venues
Publish and share them with your team for fruitful outcomes.
Evaluate your business- Distance radius maps enable you to access your business resource needs rapidly. In the case of distribution centers, by creating a distance radius map you ensure that your trucks are minimizing travel time and maximizing fuel efficiency. Nevertheless, it helps you reduce costs.
Try different buffer types- In addition to standard distance buffer, you can use drive time buffers to show how far you can drive in a specific time range you have selected.
Publish and share- When you are using radius maps for things like coverage analysis, it's essential to share them with your co-worker and use it in a presentation. They can be easily saved, printed, and shared.
Steps to create your first distance radius map-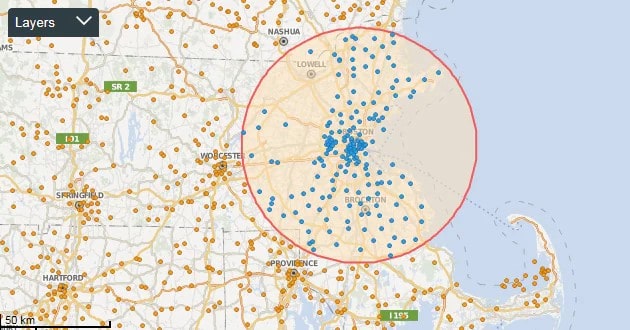 Submit an email and password to sign in.
Once you logged in you will have the option to use sampled data or upload your own.
Choose the analyze data button on the control panel and select the type of analysis. For example- regional heat map, radius, bubble map, aggregate by value and drive time.
Select the data sets you like to show as pins on your map.
Click on the button of complete. Congratulations, you have successfully created your first radius map.
Conclusion-
Why it's essential to choose interactive mapping software to design your radius map? It's essential to choose an interactive mapping software like ShowMyMap's as it offers various opportunities like-
Manipulate your map to drag in, zoom in and zoom out.
Filter your map data using the groping and clustering tools to specify your data perform relevant analytics.
Locate address, stores and get optimized route options.
Key takeaways about radius maps-
They are a powerful tool to gain insights into your data. Moreover, turns spreadsheets into visual plans.
You can evaluate your sales and services
You can try different buffers to analyze drive times.
You can create sales and marketing campaigns.
It is easy to publish and share.