In the ever-evolving world of technology, iOS devices have become an integral part of our daily lives. Whether it's staying connected with friends and family, managing work-related tasks, or simply enjoying entertainment, iPhones and iPads play a crucial role. However, like any sophisticated piece of technology, iOS devices are not immune to issues and glitches that can disrupt our experience. This is where AimerLab FixMate comes to the rescue, offering a comprehensive solution to fix all iOS system issues. In this article, we will provide an in-depth overview of FixMate and why it stands out as the best repair tool for iOS devices.
Why need AimerLab FixMate?
Before diving into the details of AimerLab FixMate, it's essential to understand the various iOS system issues users often encounter. These issues can range from minor annoyances like app crashes to more severe problems such as a frozen or unresponsive device. Some common iOS system issues include:
Stuck on Apple Logo: Your device gets stuck on the Apple logo during startup.
Recovery Mode Loop: The device keeps entering recovery mode repeatedly.
Black Screen: The screen goes completely black and unresponsive.
Frozen or Unresponsive Device: The device doesn't respond to touch or button inputs.
Boot Failure: iOS fails to boot up properly.
AimerLab FixMate is a powerful iOS system repair tool designed to address all of these issues and more. With FixMate, you are able to fix the iOS/iPadOS/tvOS issues without losing data. You can also put your Apple device into or out of recovery mode for free.
When it comes to choosing an iOS system repair tool, FixMate stands out for several reasons:
Effectiveness: FixMate has a high success rate in fixing various iOS system issues. It's a trusted tool among users worldwide.
Reliability: AimerLab, the company behind FixMate, has a strong reputation in the software industry. Their software is renowned for its high caliber and dependability.
Data Security: FixMate ensures that your data remains safe during the repair process, eliminating the risk of data loss.
Frequent Updates: The software is regularly updated to support the latest iOS versions and address emerging issues.
How to Use AimerLab FixMate to Fix iOS System Issues?
Using AimerLab FixMate to fix iOS system issues is a straightforward process. FixMate simplifies the task with its user-friendly interface and one-click solutions. Here's a step-by-step guide on how to use FixMate to address common iOS system problems:
Step 1: Download and install AimerLab FixMate on your computer, then launch it.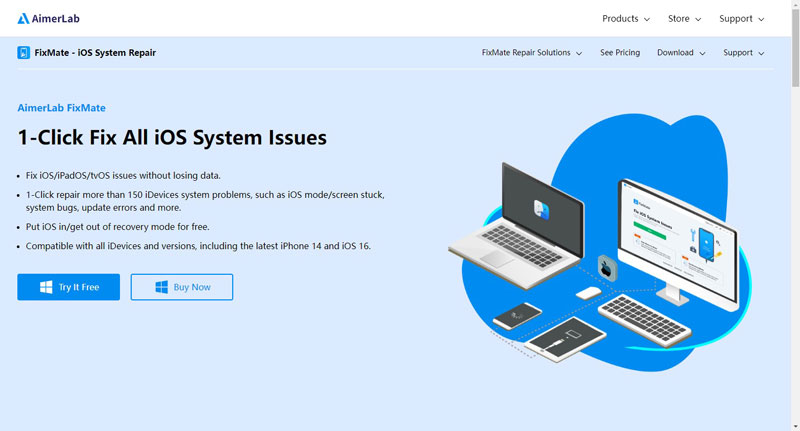 Step 2: Use a USB cable to connect your iPhone, iPad, or iPod touch to your computer. FixMate should recognize your device automatically. You will see your device's information displayed in the FixMate interface.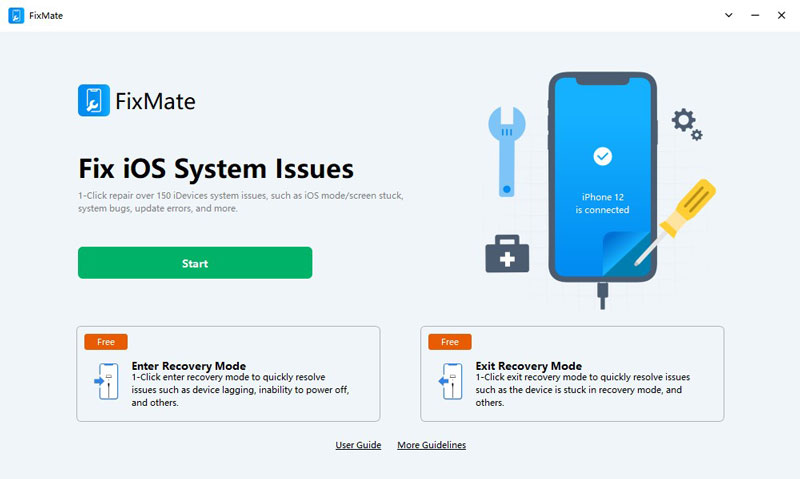 Step 3: Fixing your iOS system issues.
Depending on the specific issue you're facing, you can use different options in FixMate:
Enter Recovery Mode:
If your device is not responding or stuck on the Apple logo, you can use the "Enter Recovery Mode" option to force your device into recovery mode.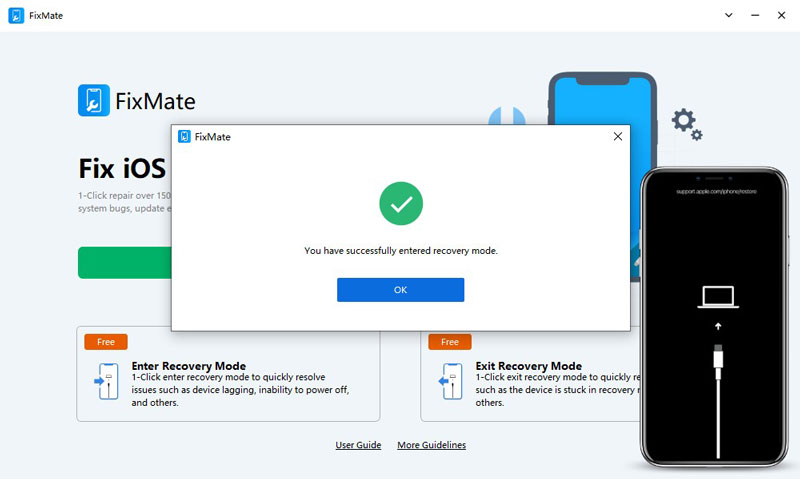 Exit Recovery Mode:
If your device is stuck in recovery mode, you can use the "Exit Recovery Mode" option to exit it and return your device to normal operation.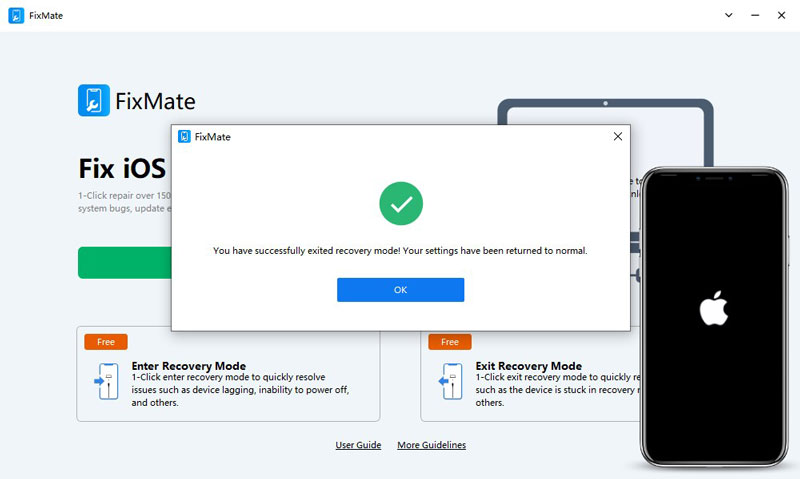 Repair iOS System Issues:
If you're experiencing more complex issues like a black screen, a frozen device, or frequent crashes, use the "Fix iOS System Issues" option. This feature is particularly useful for addressing software-related problems.
Here's a step-by-step guide on how to repair the operating system with AimerLab FixMate:
Click on the "Start" button on the FixMate's interface to begin the repair process.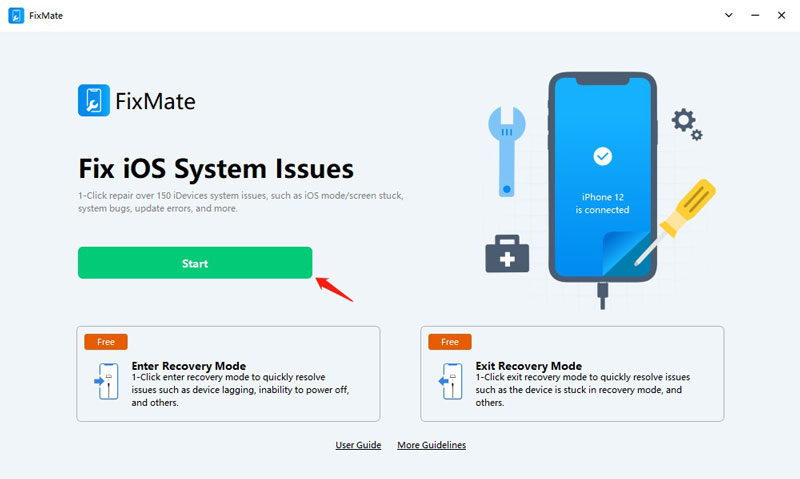 FixMate will prompt you to choose a repair mode to fix the issues. AimerLab FixMate offers "Standard Repair" mode for common iOS issues with data preservation, and "Deep Repair" mode for more critical issues with a higher potential for data loss.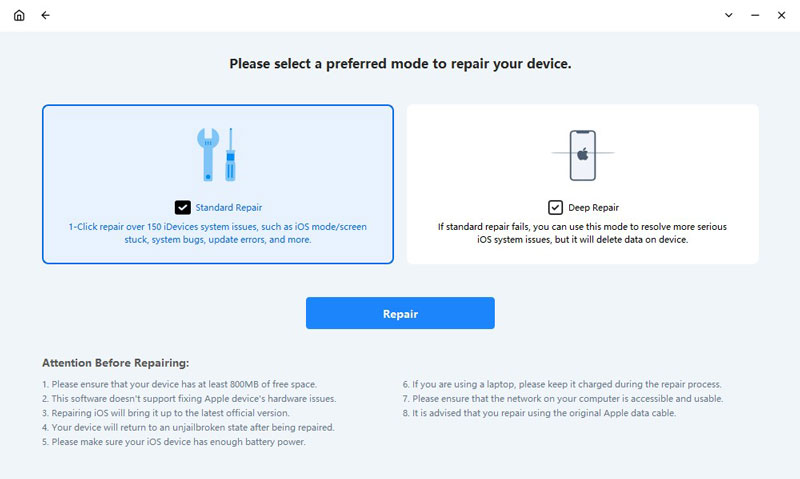 FixMate will ask you to download the appropriate firmware package for your iOS device. Make sure you have a stable internet connection and sufficient disk space on your computer to download this package, and then click "Repair" to start downloading.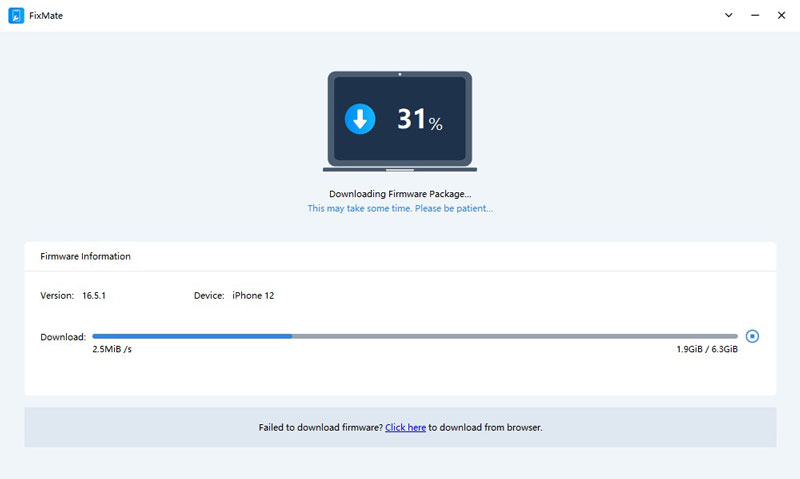 Once the firmware package is downloaded, FixMate will begin repairing the operating system of your iOS device. During this process, FixMate will put your device into the recovery mode, and you will see the repair progress on the FixMate screen.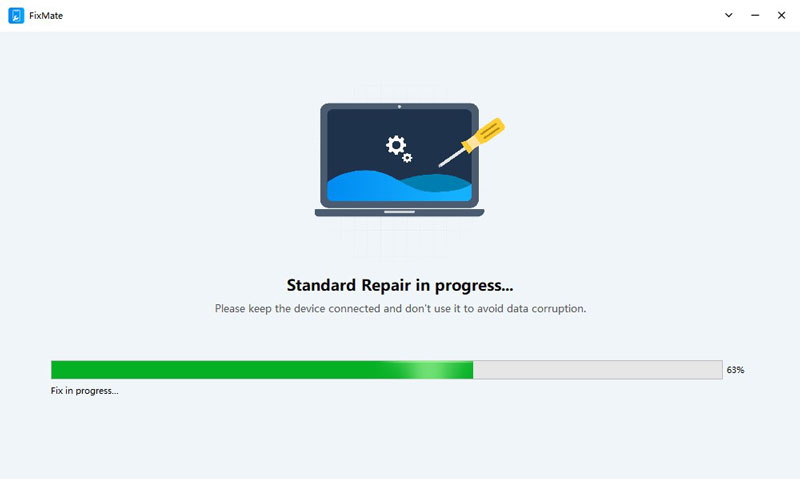 Once the repair process is complete, FixMate will notify you. Your iOS device will reboot automatically, and you should see it returning to normal operation. In most cases, AimerLab FixMate successfully fixes iOS system issues, allowing you to use your device without any problems.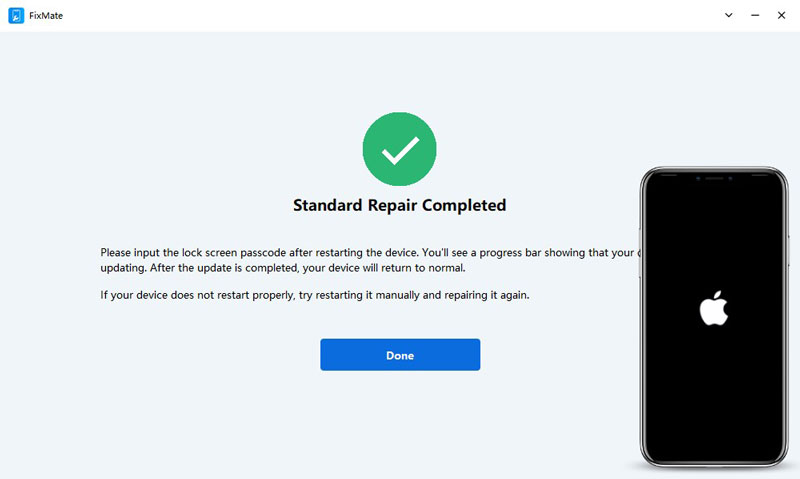 AimerLab FixMate Pricing
FixMate offers both free version and pro version. The free version usually includes basic features like entering and exiting recovery mode. However, if you want to fix your iOS system issues, you need to upgrade your account to the pro version. AimerLab FixMate offers three pricing plans:
$19.95 for a one-month subscription: With this choice, you have a month's worth of access to all of FixMate Pro's capabilities.
$44.95 for a one-year subscription: With the annual membership, you will have a full year's worth of access to FixMate Pro.
$74.95 for a lifetime plan. Choosing this option will give you access to all of FixMate Pro's features for life.
You can buy from FixMate's official site or get extra FixMate 25% off on Apphut.io.
Conclusion
In a world where iOS devices are an integral part of our daily lives, encountering system issues can be frustrating. AimerLab FixMate emerges as the ultimate solution to address these problems efficiently and without data loss. Its user-friendly interface, comprehensive repair capabilities, and reliable performance make it the best repair tool to fix all iOS system issues. Whether you're a tech novice or a seasoned user, FixMate simplifies the process of getting your iPhone or iPad back in working order, ensuring that you can enjoy a seamless iOS experience. Don't let iOS system issues hold you back, suggest downloading AimerLab FixMate and giving it a try.