Wondershare Dr. Fone offers to be your phone manager as well as your data backup and screen mirroring provider, with many valuable tools at a very affordable price.
Smartphones are now an essential part of our day-to-day lives and play a significant role in the way that we interact with the rest of the world. In today's society, it is nearly impossible to imagine life without one. Our mobile phones store all of the information that is regarded to be the most private, such as the photographs we take with them, the history of our conversations, and the preferences we have for our applications. On the other hand, there are times when data is lost because of an error made by a human being or because of some other issue. If you are unable to transfer the data from your old phone to your new phone because your old phone is frozen at the lock screen and your new phone is stopped at the boot logo, you will need to erase some things from your new phone. This is necessary if you are unable to transfer the data from your old phone to your new phone. Wondershare In the event that you are confronted with issues similar to these, the sole piece of software that you will require is Wondershare Dr. Fone. The application comes with a number of other applications that simplify the process of recovering lost data and performing administrative tasks on mobile devices running Android and iOS. This programme allows you to perform a variety of helpful actions, such as repairing your system, creating a password manager, erasing your data, backing up your data, repairing your system, unlocking your screen, moving your phone, and many more.
Phone Manager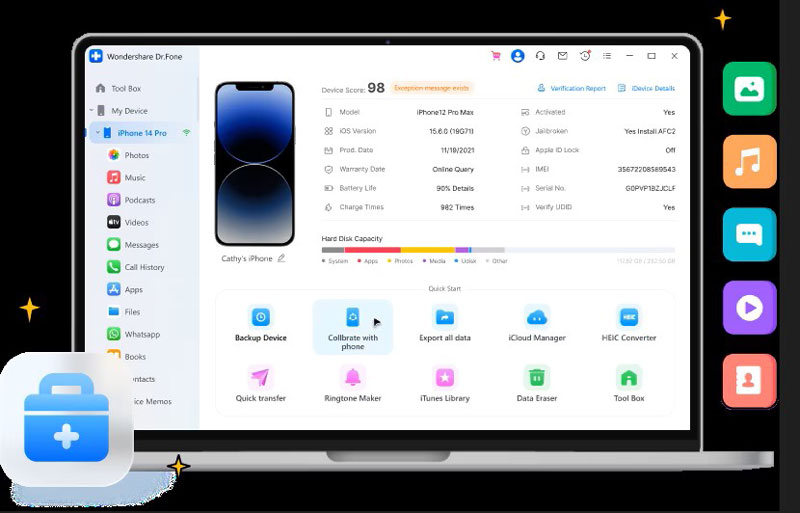 Verify the health of your gadget, and get an export report with all the data
Simply click to send
iTunes and iCloud administration
Help for iPhone, Android, and iPod
Dr. Fone Air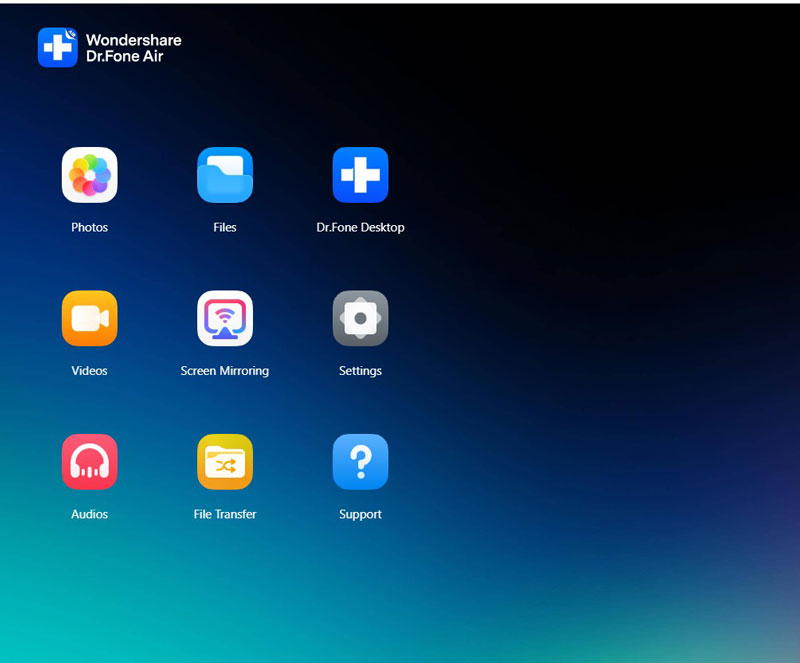 Wireless PC-to-Mobile Phone File Transfer
Organisational tools for files and phones
Allow for use on various mobile devices, data formats, and browsers.
Unlocking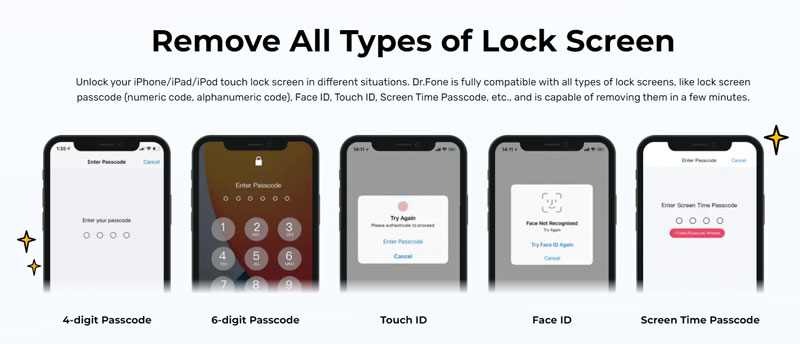 Password-free access to Apple features like Face ID, Touch ID, Apple ID, Screen Time, and iTunes Backup
Unlock your iPhone without having to jailbreak it.
Deleting MDM profile and unlocking MDM system without losing data.
Free your iPhone from carrier constraints by unlocking it.
Easy 3-step procedure that presupposes zero technical expertise.
Erasing Data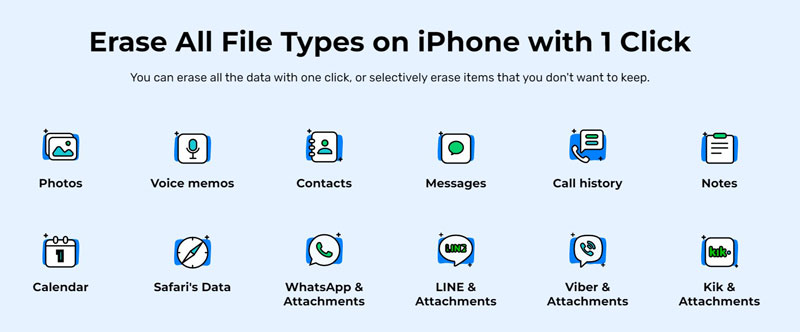 Get rid of unnecessary files to boost device performance.
Take control of your iPhone's storage by managing huge files.
Before selling or giving away a gadget, make sure all personal data has been erased.
Once data has been erased, it can never be recovered.
Very simple to employ: The three-step process for erasing data
Give a detailed report based on a thorough inspection
Another fantastic function brought to you by Dr. Fone. Nevertheless, it is only useful for people who utilise iOS and macOS. Copying and pasting data from a mobile device, such as an Android or iPhone, onto a personal computer is all required for data transfer. In comparison, Apple makes the process a great deal more difficult to carry out. Therefore, if you want to transfer images or other data fast from your iPhone to your Mac, all you have to do is select the "Photo Transfer" feature and then select all of the photos that you want to be transferred from your iPhone to your Mac. In addition, you can create a "New Album" or immediately export the photo collection to your Mac.
Wondershare The all-in-one mobile solution Dr.Fone is hosting a sharing campaign, Your Phone, Your Way. By leaving a comment about a phone you've had the longest and tips for keeping it in good condition, you'll be entered to win AirPods 3, Medio.io, PixCut, and Dr.Fone license.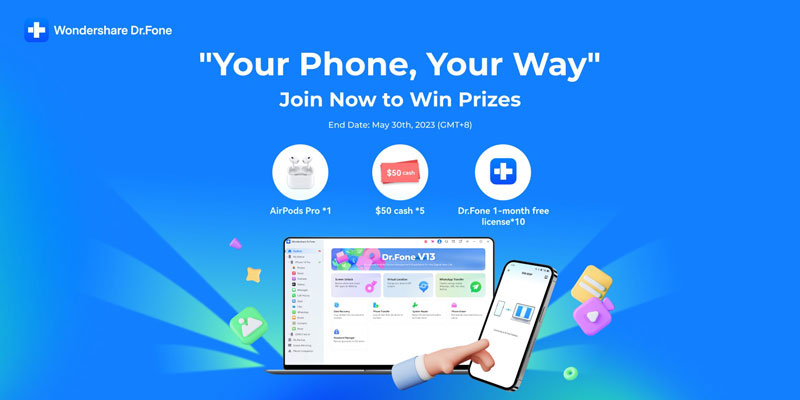 Just follow these simple steps and and be the winner of this campaign
How to Participate:
1. Follow @wondershare_dr.fone Instagram account
2. Share the first reel to your IG story
3. Comment and tell us "What problems do you encounter in daily use of your mobile phone? (data backup, file transfer, phone screen locked, etc.)"
Prize:
First Prize: AirPods Pro *1
Second Prize: $50 cash *5
Third Prize: Dr.Fone 1-month free license*10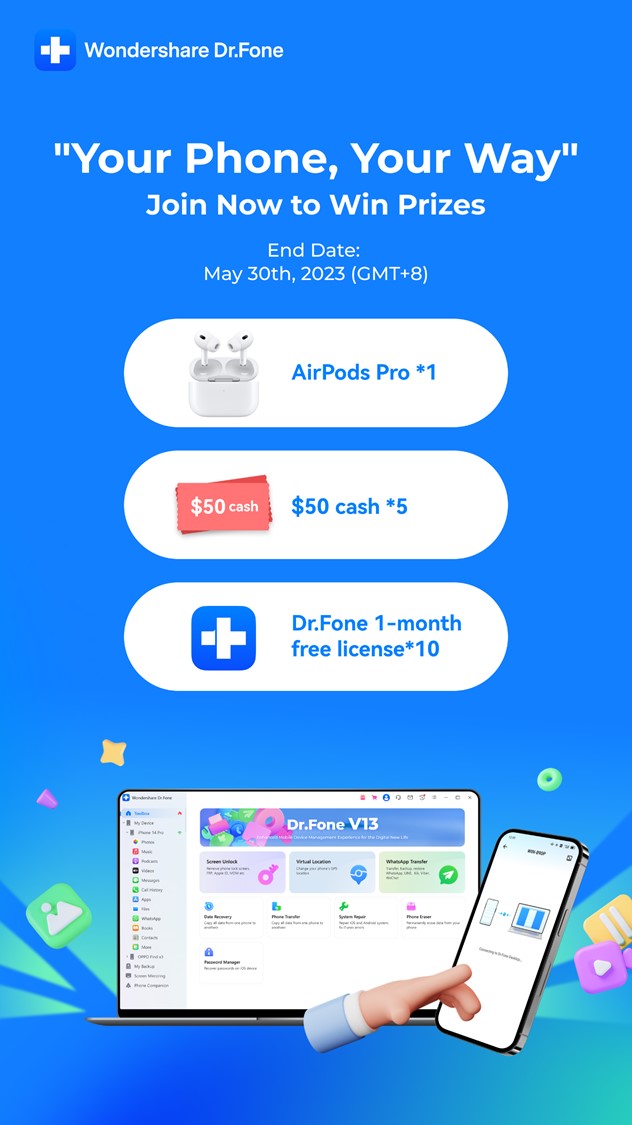 Time:
The campaign will end on May 30th.
Winners will be randomly chosen from the comments. Good Luck!
Price
Dr. Fone Full Toolkit: 99.95$
Dr. Fone Basic: 39.95$
Also, there are some other packages you may like
Dr.Fone Data Recovery: 39.95 $
Dr. Fone Screen Unlock: 39.95 $
Dr.Fone Whatsapp Transfer: 21.95 $
Dr.Fone System RepaIr: 19.95$
Dr.Fone Phone Transfer:29.95$
Dr.Fone Data Eraser: 14.95$
Dr.Fone iTunes Repair: 19.95$
Product Review
Customers are consistently complimentary of how quickly our screen unlocking, phone manager approach, and our fast data recovery technology, which is powered by Dr. Fone, can restore lost data. In addition, if you have any questions or concerns, feel free to contact our customer care department at any time. Many users of older phones have reported having pleasant interactions with their smartphones after purchasing it thanks to the assistance provided by our toolkit.
Customers are ecstatic about the enhanced data recovery capacity that Dr. Fone provides for them. Dr. Fone was the only piece of data recovery software that was able to fix the issue for an additional user who desired to remain anonymous. This user tried numerous other pieces of software, but only Dr. Fone was successful. As a result of this, Dr.Fone is more dependable than its competitors while also being more portable and multipurpose than its competitors. The number of subscribers is quickly breaking through previously unreachable barriers.
Although Wondershare provides Virtual Location, Wondershare Inclowdz, Password manager for desktops, after launching those the customers gave them a warm welcome and used them as their basic software and cloud system.
In the realm of digital invention and development, Wondershare was an early adopter and a powerhouse in the industry. The business first opened its doors in 2003 and has continued to do so continuously since then. The answers we supply are clear and easy to implement, and the tools that Wondershare Dr.Fone makes available to its customers are at the bleeding edge of technological advancement. As a consequence of this, a great number of individuals hailing from over 150 different nations have placed their faith in our company. If we inspire users to go after their goals, we can all play a part in making the world a more interesting and distinctive place.