Do you want to work a little more on your SEO skills? Here is good news for you. With the help of Ubersuggest you can enhance your SEO skills.
In this era of digital marketing, ranking on a search engine, especially Google is really important. We do SEO or search engine optimization to rank our page, website, or content. And in order to get more views and rank on the first page of Google and enhancement in SEO skills is needed. Here we will discuss how Ubersuggest can help you in order to enhance your SEO skills.
What Is Ubersuggest?
Are you lacking new keyword ideas? Ubbersuggest maybe the one you need right now. It is basically a tool that will help you with new keyword ideas without charging a single penny. The tool is available totally free of cost.
Originally, Ubersuggest was founded as a tool that was able to brush up Google Suggest Terms. Recently, entrepreneur Neil Patel has acquired and stretched the feature set remarkably.
What Are The Key Features Of Ubersuggest?
Ubersuggest helps you to find keyword suggestions. All you need to do is type a keyword and the tool will show you some longer versions of the same term that you have put.
Along with the longer keywords, this tool will also give you some data for each keyword. Average CPC, SEO competition, PPC competition, and monthly search volume are some of the information about the keywords suggestions.
These suggestions work really great if you already know the topic which you want to cover. But it does not work in case you are searching for some completely new keyword as well as content ideas. This is because this tool suggests keywords totally based on the specific keyword that you have entered. But you can generate a wide range of different types of keywords.
The suggested keywords are related to the seed keyword but not on the same topic always. For example, while you enter "low-carb diet" it will also suggest you "best restaurants for low-carb diet". In many other keyword finding tools, you won't get such a useful feature.
This tool also suggests keywords that form questions. Like, if you search for "keto diet" it will suggest to you "is keto diet safe".
Ubersuggest also generates preposition keywords. In case you have no idea about what it is. Let me tell you. The preposition keyword contains two related contents in one. For example, a preposition keyword for "keto diet" is "keto diet for elders".
In case you want to use some keywords comparing things, Ubersuggest also can make you happy with some useful keywords using 'vs', 'or', 'and'. For "keto diet", the tool will suggest "keto diet vs paleo", "keto diet and diabetes" etc. these keywords are mostly used by those who have a piece of deep knowledge about the things. Such as while buying a phone, we may search "android vs iOS".
This tool also offers you some important data on the keyword that you have typed in. It helps you to emphasize a single term and get a piece of detailed information on that instead of investing in a bunch of ideas.
How Is The Keyword Overview Report Of Ubersuggest?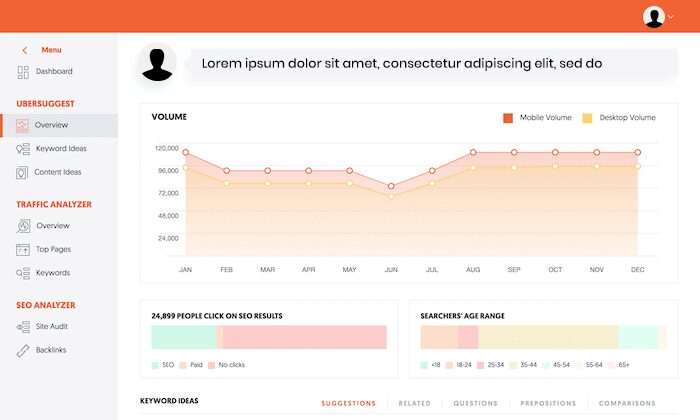 Ubersuggest provides a keyword overview info of the term you have entered. Following is the trend of that report.
This offers the basic info you required along with the search volume over the last 12 months.
This will also tell you an approximation of how many backlinks you need in order to rank on the first page with that keyword.
This tool will also give you a list of content on that specific topic that drives a lot of backlinks, traffic, and social media shares.
Ubersuggest also provides a SERP overview. By clicking on the "SEO difficulty" card, you will get access to the list of top 100 ranking pages with that specific term. It will also give you the data on their links along with estimated traffic and social shares.
Ubersuggest also has a feature to figure out what is already working with that space. You can also check the minimum and maximum number of Facebook shares with and without the keyword.
Ranking in Google for a bunch of keywords does not always mean that the site will get a lot of traffic. This is because according to the analysis of Google CTR stats, the top three results in Google search get around one-third of the clicks. So, it is really nice to rank for a bucket of keywords. The ranking means everything to any tools of the SEO optimizations. It will help you to develop your brand image and help you to know customer service advantages and disadvantages in a short period.But it is always better to rank on the first page of google search with a handful of keywords than to rank 10 for lots of keywords.
You can also check for the keyword, which is used by the page ranked on Google. All you need to do is click on the "Keywords" in the column "Est. visits". This feature is very helpful as you get to know about the terms that you haven't thought of before.
How Does It Help You To Enhance Your SEO Skills?
From the earlier discussion, you may have understood how Ubersuggest is important for SEO campaigns. Now we will tell you how you can use Ubersuggest to enhance your SEO skills.
When you are getting a lot of keyword extensions for the specific keyword you put in, you can use multiple keywords in order to rank your site or content on the search engine.
Ubersuggest gives you access to top-ranking sites, which use the keyword to rank in the search engine. You also get information about how many backlinks they have used and can follow the strategy.
With different types of keywords, you will also get different topic ideas that people are searching for. Using them you can increase the chances of ranking and attract more viewers.
You also can check some data about your competitor. Like for which keyword the page or website has ranked in Google.
Extra Tips
So, now you know how you can use Ubersuggest to enhance your SEO skills. Try to utilize all the features that you are getting. As it is a free tool, no need to worry about the cost. You also can check how to use the tool. Step by step guidance is available online.