Check out the four best glass gaming desk options on the market, manufactured and supplied by Eureka Ergonomic. eurekaergonomic.com/glass-desks 
A glass gaming desk is a wonderful addition to your setup. It brings a whole new look and feel to your gaming room or office, and there are so many different options to choose from. At Eureka Ergonomic, we manufacture the very best glass gaming desks at our manufacturing plant in China. Our extremely talented team puts awesome designs together that are perfect for gamers. With that in mind, here are four of the coolest glass gaming desks you can get right now:  
Gaming Desk: GTG-L60 60″ Spectrum RGB Reversible L Shape Glass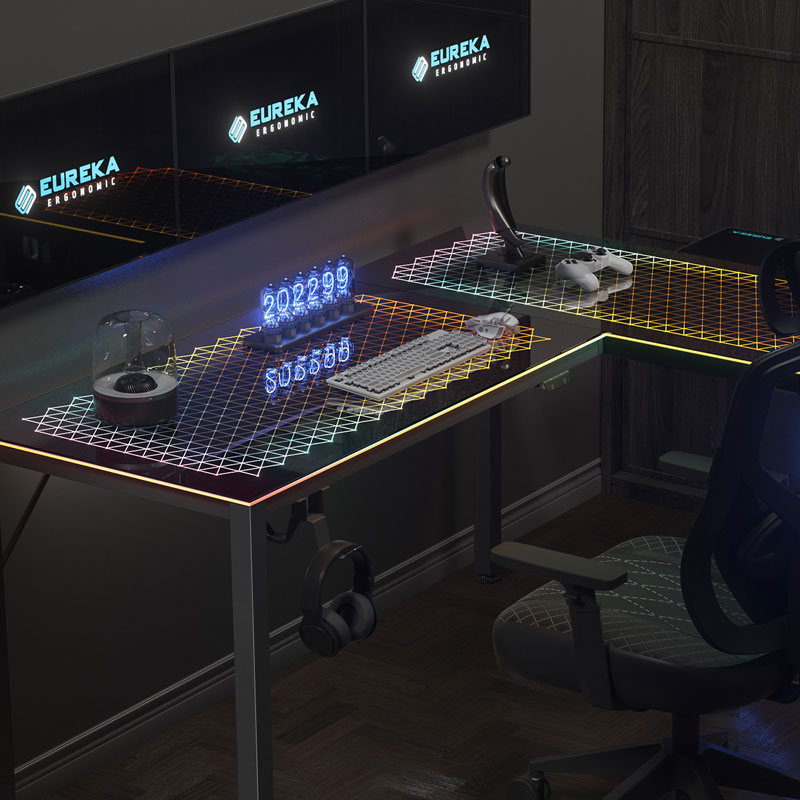 If you're looking for an L-shaped gaming desk, look no further than this one. Manufactured using sleek tempered glass, this L-shaped glass gaming desk has exceptional durability and is scratch-resistant. The shape offers more space for you to place your gaming equipment – you could easily put your PC tower on the desk, or use the added space for a multi-monitor setup. It's a reversible design as well, so you can move the desk around to fit in any corner of your room. You'll find some very useful accessories too, such as a cup holder, headphone hook, and power strip holder to keep the underside of the desk neat and tidy. Of course, you also get over 200 RGB light effects on the desk, which you can control via your phone or PC. It's an incredibly versatile glass gaming desk that's perfect for full-time streamers or casual gamers.  
Gaming Desk: GTG 43″ Spectrum RGB Glass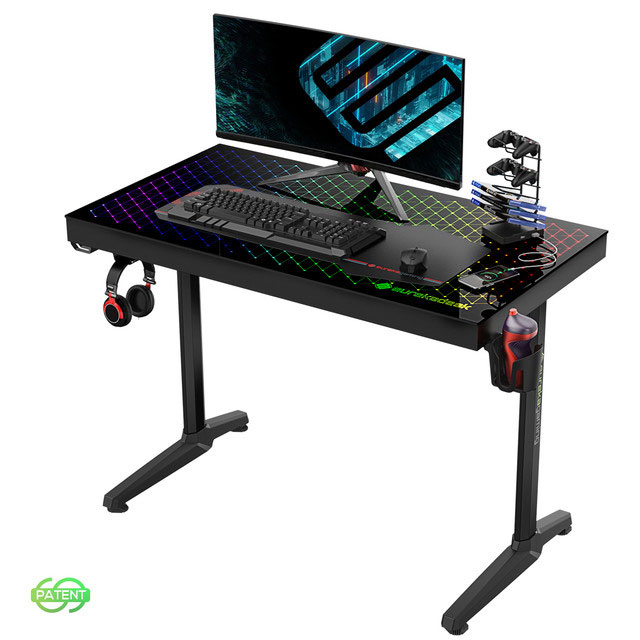 Do you want a more compact glass gaming desk for a small room? This beauty has been expertly crafted precisely for people without a lot of space. At only 43 inches, you can easily squeeze this stunning glass desk into any bedroom or tiny space. There's still ample room under the desk to keep a PC tower, and you have more than enough space above for a wide monitor, keyboard, mouse, mouse pad, speakers, and any other accessories you might use. As with all our glass gaming desks, this one is made from scratch and water-resistant tempered glass. It lets you enjoy long gaming sessions without worrying about scratching or staining your desk. Despite being our smallest desk, you still receive a host of accessories underneath to keep everything well organized. Also, bring more brightness to your gaming sessions with the RBG lights built into the desk. Once more, you have over 200 different effects to choose from, alongside audio reactive spectrum RGB technology that makes the lights change depending on sound cues from your games! 
Glass Standing Desk: GTG 47″ Spectrum RGB, Black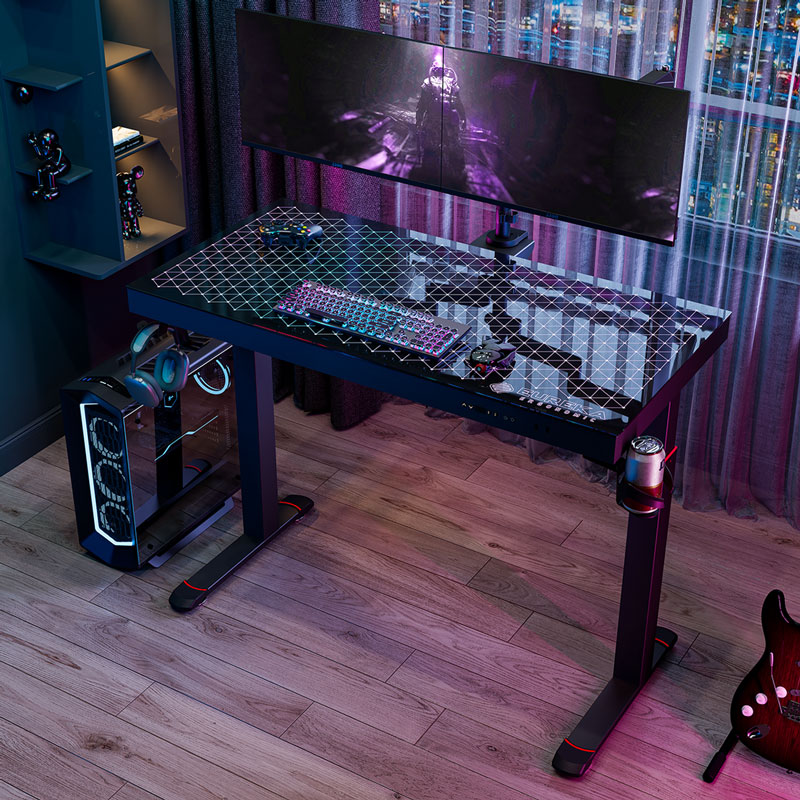 Sometimes, sitting at a desk for hours on end can lead to pain and discomfort. Consequently, opting for a standing glass gaming desk could be a brilliant solution. This offering gives you a 47-inch desk that provides more than enough space and can still fit in fairly small rooms. But, the true brilliance lies in the motor that lets you alter the height of your desk. It can sit as low as 30.12 inches or as high as 48.58 inches. You control the height with easy buttons on the desk, and it silently eases itself into the right position. If you want to set two heights – one that's optimal for sitting and one for standing – you can do so and save them. This means you only have to press one button to automatically get your desk to the pre-saved height! You still get all the same features of our other desks – like the RGB lighting effects and tempered glass – but you can now stand up and game to avoid back pain and stretch your legs.  
Glass Standing Desk: GTG-EVO 55″ Spectrum RGB Computer Case, Black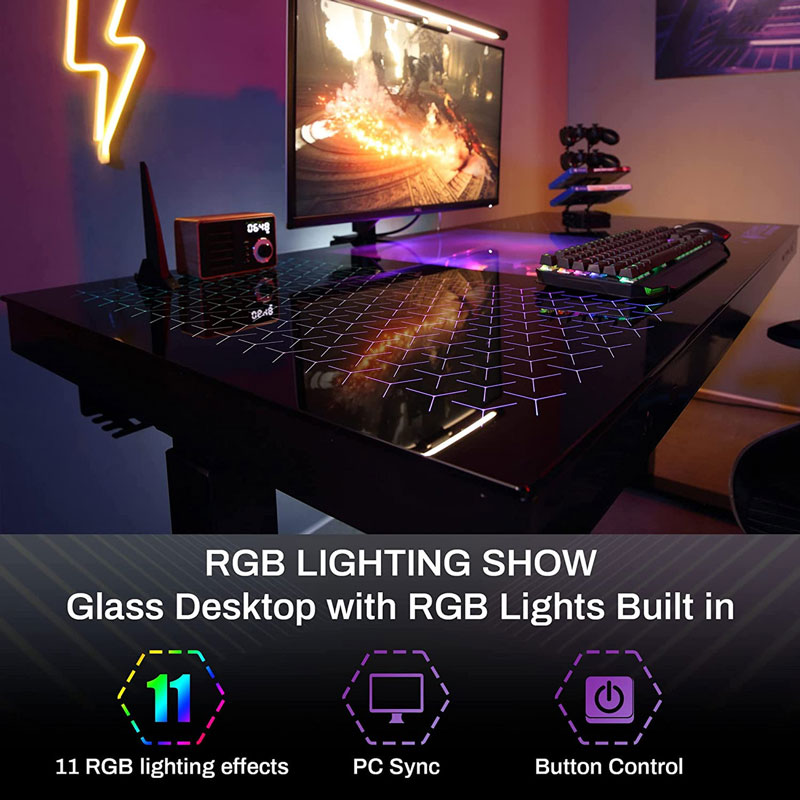 We might be biased, but this is by far and away the coolest glass gaming desk on the market right now. Effectively, you receive everything in the previous desk – including the ability to raise or lower the height – plus so much more. It's larger, for starters, making it an ideal streaming desk or glass gaming desk for avid gamers. The coolest thing about this product is that it comes with a built-in PC case to save space. That's right, you can literally place your PC components inside your desk and see all the cool lights while you game. It's a unique concept that you probably haven't seen before, allowing you to get rid of all the nasty wires from your PC tower while enjoying a very stylish desk.  
A glass gaming desk is certainly the way forward, and these four options are easily the best and coolest you can find. Regardless of your needs or budget, you're sure to find one that suits you perfectly.